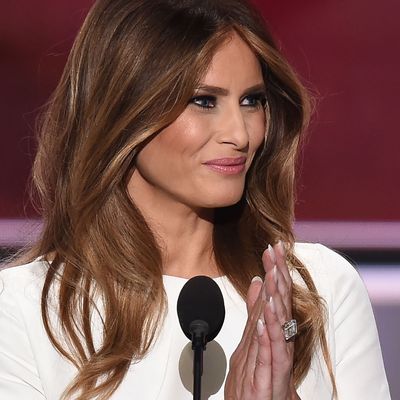 Melania Trump.
Photo: ROBYN BECK/AFP/Getty Images
Donald Trump is moving into the White House in just a few days, and according to Melania's longtime makeup artist Nicole Bryl, the pair has got some pretty extensive decorating changes in mind. If things go as planned, high-school students of the future can look forward to touring such historic spaces as the Lincoln Bedroom, the Roosevelt Room, and, of course, the Melania Trump Glam Room.
"There will absolutely be a room designated for hair, makeup, and wardrobe," Bryl told Us Weekly, adding that it takes "about one hour and 15 minutes of uninterrupted focus" to complete Melania's beauty look.
While a preservation committee oversees any changes to the White House's public spaces or historic guest suites, residents have always been allowed to add personal touches to their private living quarters and elsewhere around the property. For instance: Obama added a basketball court, Nixon added a bowling alley, and Ford built an outdoor swimming pool, so having a designated room for hair and makeup isn't actually that far-fetched.
"Melania wants a room with the most perfect lighting scenario, which will make our jobs as a creative team that much more efficient, since great lighting can make or break any look," adds Bryl.

Only one week until we Make America Glam Again.