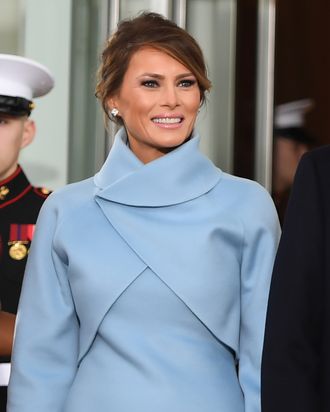 The White House would like you to know that First Lady Melania Trump appeared in "Harper's Bazaar, British GQ, Ocean Drive, Avenue, and In Style."
Photo: Getty Images
Shortly after Melania Trump assumed the office of First Lady on Friday, the White House's website was updated to feature her biography in place of Michelle Obama's. The bio starts out traditionally enough, with details about where she was born and what she studied in college, but it quickly veers into a very detailed summary of her modeling career:
As a model, Melania has appeared in high profile ad campaigns and worked with some of the top photographers in the fashion industry, including Patrick Demarchelier, Helmut Newton, Arthur Elgort, Ellen Von Unwerth, Peter Arnell, Antoine Verglas and Mario Testino. She has graced the covers of Vogue, Harper's Bazaar, British GQ, Ocean Drive, Avenue, In Style, and New York Magazine. Her major layouts include the Sports Illustrated Swimsuit Issue, Allure, Vogue, Self, Glamour, Vanity Fair, and Elle. In addition, Melania has appeared in numerous television commercials and television programs, including co-hosting The View with Barbara Walters.
In case you weren't counting, that's at least seven covers and seven major layouts — all listed before her contributions to things like the American Red Cross and the American Heart Association. According to the Washington Post, it's pretty typical for the First Lady's bio to talk about her achievements, but "Trump's decision to include a detailed list of her media appearances is unusual." As is plugging a pictorial spread like this:
A few lines down, Trump's bio also throws in the fact that she's a "successful entrepreneur." "In April 2010, Melania Trump launched her own jewelry collection, 'Melania™ Timepieces & Jewelry,' on QVC," it reads.
QVC told Forbes in July it "does not have an active relationship with [Melania's] brand" any longer, and a search for Melania Trump jewelry on the QVC website lands on an empty page. In fact, since her personal website was taken down and the products removed, it's a little unclear where one is supposed to buy Melania™ Timepieces & Jewelry — unless it's on eBay. But the choice to shout-out her jewelry line in her official White House bio is already drawing criticism — especially after #banglegate.