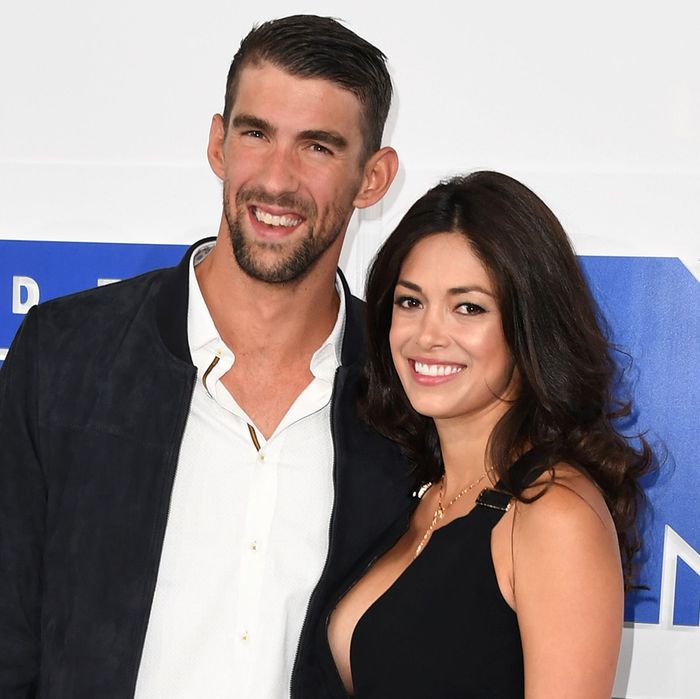 Michael Phelps and Nicole Johnson.
Photo: ANGELA WEISS/AFP/Getty Images
For those who were not aware, Michael Phelps is a happily married man. And, should there be anyone in his network of family, friends, or colleagues who did not already have the chance to celebrate the matrimony of Phelps and Nicole Johnson, well, it's safe to say such persons weren't wanted in attendance. After all, Phelps managed to celebrate his wedding not once (or even just twice), but three times in 2016. Phelps and Johnson decided to welcome the New Year by throwing a "New Year's Eve wedding bash," according to E! News, citing a source who was in attendance.

The happy couple might just be trying to make up for surprising everyone in 2016 when TMZ broke the news in October that they had secretly married in June, just prior to Phelps's stint at the Rio Olympics. Phelps later confirmed their marriage and the couple had a bigger, more traditional wedding ceremony with their family and friends. And, unlike what they did with their first ceremony in the summer, the couple eagerly shared news of their second wedding on social media. (Cue the wedding photos!) In fact, they didn't just share the news. In December, we were also treated to a video of the wedding, complete with techno music.

Which of course raises the question: What was on the playlist for their latest celebration?