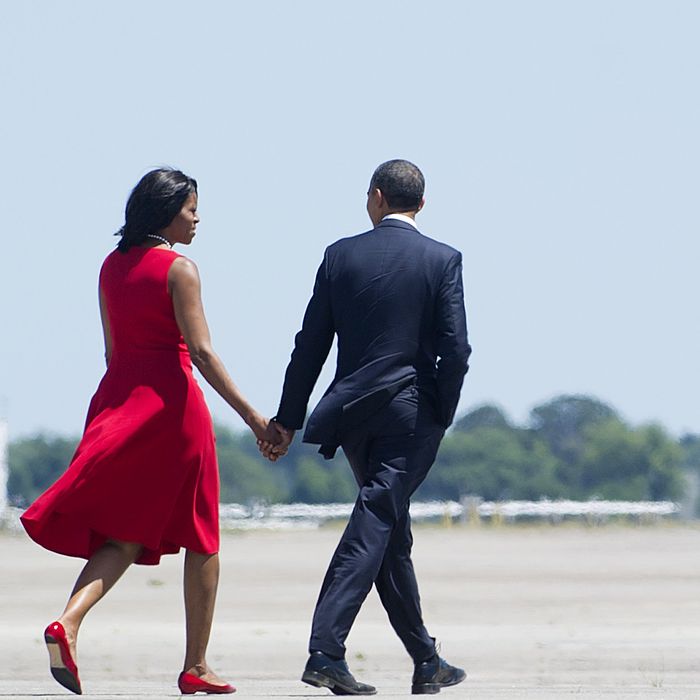 Michelle and Barack Obama.
Photo: SAUL LOEB/AFP/Getty Images
There are plenty of substantive reasons to be experiencing pre-nostalgia for Michelle Obama's eight years as First Lady. Re-watch her stirring final speech last week in case you need further proof of that. But from a fashion standpoint, she'll be missed not just for her gowns and her always on-point off-duty looks, but for the way she supported the fashion industry and young American designers in particular.

That said, while we mourn FLOTUS Michelle, keep in mind that Michelle-as-public-figure is simply entering a new chapter. And it's one that might allow her to be sartorially freer. Once she's no longer in politics, she won't be beholden to making politically advantageous fashion choices. Think about the firestorm when she wore a look by a non-American designer, or the flak she got for sporting $540 Lanvin sneakers to a food bank. Of course, FLOTUS managed to skirt fashion controversy for the most part, staying nationally on-theme with her choices for White House state dinners over the years, and supporting young American talents from Jason Wu to Brandon Maxwell. Her wardrobe spoke to her beliefs: Choosing Taiwanese-Canadian-American Wu and Cuban-American Isabel Toledo as the first designers she wore in office, for example, silently made a powerful statement about the contributions immigrants have made to American design.

She wore her mantle as an uplifter of the fashion industry with great seriousness. Not since Jackie Kennedy has a First Lady been both a fashion icon and such a booster of those who work in the design field, anointing Oleg Cassini as her "Secretary of Style." (Nancy Reagan was certainly known for her wardrobe as well, but tended to stick to standbys like Adolfo and James Galanos rather than new talents.) While Obama wore designer fashion for big events, her casual looks leaned on the more affordable side — there was notably lots of J.Crew, and none of it was overly trendy. Even if you couldn't afford the originals, you could translate her style for your own budget. For many American women in their 40s and 50s, she served as a fashion plate of sorts, giving them license to incorporate color and pattern into their looks — and to go sleeveless, of course.

Back in October, we got a glimpse of what the post–White House Michelle might look like: her stunning but uncharacteristically glamazon turn in Atelier Versace, the house's couture arm, for the final state dinner. The curve-hugging, rose-gold goddess gown showed us a new side of Michelle. When she becomes a private citizen, she'll be able to accept gifts from designers, and get even more elaborate with her style — which hopefully means some more couture. Not only will we continue to care about what she wears, but that trajectory will probably get even more exciting.