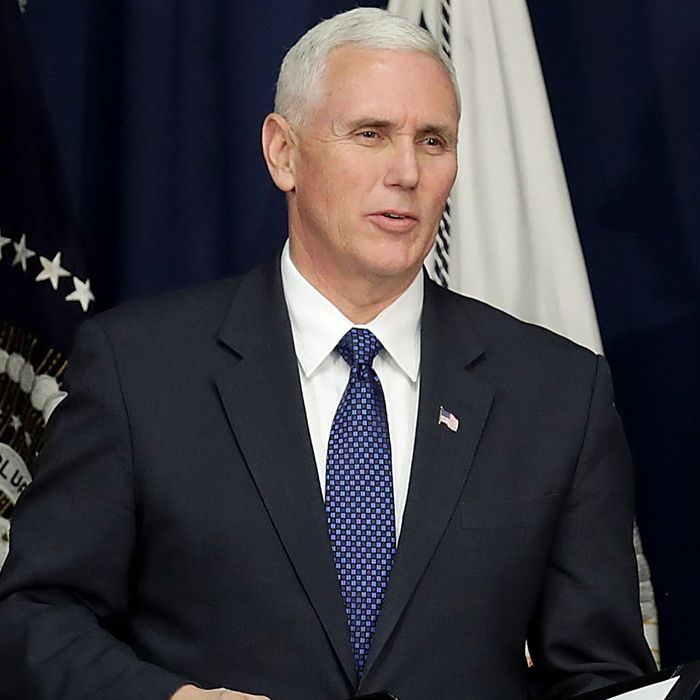 Mike Pence.
Photo: Chip Somodevilla/Getty Images
Doubling down on the Trump administration's hard-line anti-abortion platform, Vice-President Mike Pence has accepted an invitation to speak at Friday's March for Life event at the National Mall in Washington. Other members of the administration, including Kellyanne Conway, are also scheduled to speak.
The March for Life, a gathering of anti-abortion activists, takes place every year on the anniversary of Roe v. Wade. While past Republican presidents have addressed the march remotely, including George W. Bush and Ronald Reagan, Pence will be the first V.P. to address marchers directly. According to the New York Times, anti-abortion activists see Trump's presidency as a golden opportunity for the movement, with Pence's presence serving as a symbolic marker of the administration's commitment to rolling back access to safe and legal abortion.
While Pence has long been one of the country's most anti-choice lawmakers, some were hopeful that Trump might be more moderate once he took office, given his history of pro-choice views. But it appears that, as with other issues from immigration to climate change, President Trump plans to put his federal funding where his mouth is. During his first few days in office, Trump has doubled down on his campaign promises to strip women of their reproductive rights, reinstating the Global Gag Rule that bans federal funding for NGOs that offer abortion services, while the Republican-led House recently passed a bill to ban federal funding for abortions. In a few days, Trump is expected to nominate his pro-life Supreme Court nominee, who will be instrumental in the coming legal battle over abortion access.