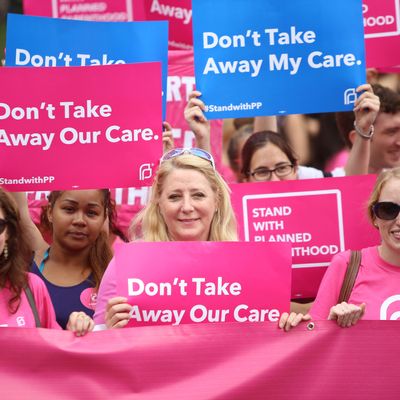 Photo: Pacific Press/LightRocket via Getty Images
Do you know what Planned Parenthood actually does? If you believe Donald Trump and Mike Pence, it's an "abortion factory." If you listen to Carly Fiorina, it's a place where body parts are trafficked. While one in five women will visit a Planned Parenthood in her lifetime, terminating a pregnancy is hardly the only reason why. Nonetheless, the fact that abortion accounts for such a small part of the organization's services does little to distill egregious conservative fantasies about the right to choose.
The many misconceptions about Planned Parenthood empower the long assault against reproductive rights, and with the president-elect's promise to cut the 100-year-old health-care provider's federal funding, correcting those myths and bolstering supporters with valuable information is more important than ever. Not sure about what Planned Parenthood does and doesn't do (ahem: wholesale fetal tissue)? Here's a handy guide to nine things people get wrong about our nation's biggest women's-health-care provider.
FALSE: Abortion is the most popular service that Planned Parenthood provides. Though some pro-lifers paint Planned Parenthood as an organization that exists for the sole purpose of blithely doling out abortions to all who walk through their doors, abortion accounts for only 3 percent of the organization's health-care services (a statistic that conservatives claim distracts from the actual cost of abortion). The main reasons people visit a Planned Parenthood are contraceptive access (31 percent) and STI/STD testing and treatment (45 percent). More than double the number of people visited Planned Parenthood clinics in 2014 for pregnancy tests than for abortion procedures.
FALSE: Planned Parenthood only provides services to women. If Planned Parenthood were to be defunded, women won't be the only ones to lose out. While services vary depending on location, men can visit clinics for prostate, colon, and testicular cancer screenings, vasectomies, male infertility screenings, and sexual-health services, among other necessary health treatments. In 2014, Planned Parenthoods nationwide provided vasectomies to 3,445 men.
FALSE: Planned Parenthood is just for wealthy women, so they'll find health care elsewhere if it were to be shut down. Roughly 75 percent of Planned Parenthood's patients have income at or below 150 percent of the federal poverty level, which is one enormous reason why it is essential the organization's services not be curtailed. The federal funding that Planned Parenthood receives is largely through Medicaid reimbursements. Over half of PP facilities are in medically underserved communities, and unlike most health-care facilities, PP offers same-day appointments, longer hours, and weekend services, making access to preventive health care easier for people who work nontraditional or long hours. In total, Planned Parenthood provides 4,970,000 people worldwide with sexual and reproductive health care and education yearly.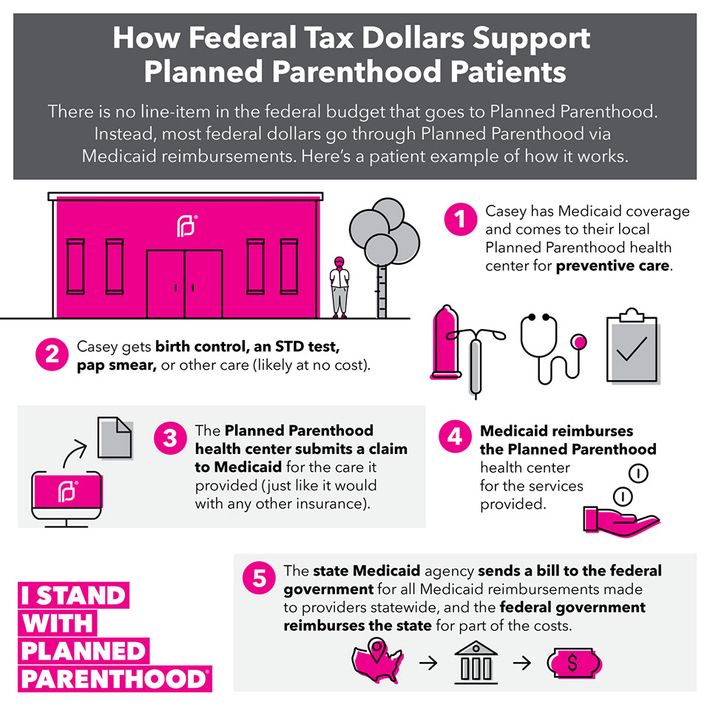 FALSE: Defunding Planned Parenthood would be good for taxpayers. The argument goes that if Planned Parenthood were to be cut off from federal funding, America's taxpayers would benefit. But without the necessary and low-cost health care available at PP, Medicaid spending would actually go up for the federal government and taxpayers. In low-income areas, where women depend on Planned Parenthood for Medicaid-funded contraceptive services, unwanted pregnancies would rise, which would then put a much bigger — and more long-term — burden on Medicaid spending. ThinkProgress estimated that defunding PP would cause Medicaid spending to increase by $650 million over ten years.
FALSE: Teenagers are being indoctrinated by Planned Parenthood to have sex at a young age. One of Planned Parenthood's undersung resources is the wealth of information provided not only in clinics but online, too, at a time when sex education is critically lacking nationwide. Planned Parenthood websites receive approximately 60 million visits a year, and the organization offers both text and call options for teenagers (and adults) who are curious about sex, family planning, sexually transmitted diseases, and contraceptives. Representatives from PP assert that the clinics and information available exist as a means to educate and are not intended to encourage or push young people into anything they are not ready for. (Several studies have shown that providing young people with access to sex education is not correlated to an increase in sexual risk-taking.) Many clinics have teen advocates for other teenagers to speak to, and services offered to teens of all ages are confidential.
FALSE: Planned Parenthood is only available to cis-identifying patients. In an effort to expand its already wide reach, Planned Parenthood now offers hormone therapy for transgender patients, a typically prohibitive or difficult-to-access medical service. While many local clinics that offer hormone-replacement therapy require letters from a patient's therapist before a prescription is given, Planned Parenthood provides HRT with "informed consent." In 26 locations of the 650 Planned Parenthoods nationwide, transgender men and women can receive testosterone or estrogen treatments. Depending on the demand, the number of clinics to provide health-care options to transgender patients is only rising.
FALSE: Planned Parenthood could survive on private donors alone. Over 40 percent of Planned Parenthood's funding comes from federal, state, and local funds. That makes up about $553 million of Planned Parenthood's annual budget, while private donors (from its 2014–2015 report) account for only $353 million a year. Without federal funding, Planned Parenthood would have little chance of survival in communities where a large majority of patients rely on the government's Medicaid and Title X grants. Planned Parenthood's yearly expenses are upwards of $12 billion, and 82 percent of those expenses go to client services, education, and research. With half of the organization's funding cut, decisions would have to be made about which community clinics could stand the loss of services. (One current available action, the Washington Post reports, is for supporters of PP to seek medical care at Planned Parenthood to increase the number of privately insured patients at their clinics.)
FALSE: Planned Parenthood only provides services to Americans. The fight for Planned Parenthood to stay alive may be most potent in our backyards, but it has also extended its reach globally. In 2014, Planned Parenthood Global distributed sexual and reproductive health resources and information to 1,033,964 people worldwide by providing grants to local organizations in countries where access to these resources is severely limited.
FALSE: There will be thousands of other clinics available to women should Planned Parenthood be defunded. While Planned Parenthood is certainly the most recognizable and most familiar abortion provider to most American women, it surely cannot be the only place where women can get an abortion, should they choose to, right? Right? Not so. The argument goes that if PP lost federal funding, local community health centers could step up to fight the good fight and provide health-care services in its stead. But local community centers do not have the bandwidth to take on the Medicaid- and Medicare-supported patients who depend on access to PP's availability of resources. A study by the Guttmacher Institute found that in the 491 counties where there are currently Planned Parenthood clinics, 103 of them have no other clinics where low-income patients can gain access to affordable contraceptive services, should PP's services be drained.