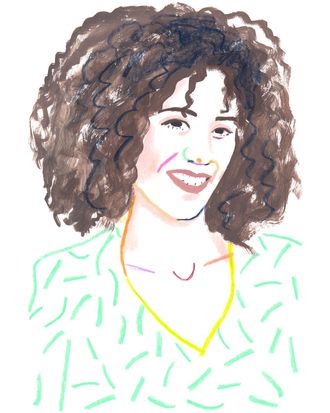 Illustration: Rebecca Clarke
Miko Branch is the co-founder and CEO of Miss Jessie's Salon and Miss Jessie's hair-care products for women with natural and curly hair. She started the business with her late sister, Titi, in 2004 and still works in the salon they founded. She gets upwards of 150 emails a day, but makes sure to keep her phone at a distance when she's at home. She has a 16-year-old son, she likes to walk over the bridge home from work, and she is committed to going to therapy twice a week. Here's how she gets it all done.
On a day in the life of the co-founder of a hair-care line for women with curly hair:
Mondays tend to be busiest for me. I wake up around 5 a.m. — I've always been an early bird. I'm a single parent, so if I get up that early, I'm able to think out my thoughts without being disturbed. When I first get up, I like to clear my mind, it's when my thoughts are purest. I get a chance to figure out what the day is going to be like. I like to be able to plan the tone of the day. When I am ready to actually get up, I make breakfast.
My son is 16 now. I haven't really cooked much since he was born. I cook pretty well but when I became an entrepreneur, it was hard to find the time. I finally started cooking again recently, so I make my son breakfast, typically eggs and bacon. I'm pretty quick with it. My son then goes to school and then I have another chunk of quiet time before my day really starts. Then from that point forward, me and my phone are connected at the hip.
Around eight o'clock, I can pretty much gauge what my day is going to look like. I get a lot of emails because I'm the CEO — all emails are funneled back to me. Not many decisions are made without my final approval. I get north of 150 emails a day.
Around ten o'clock, I take a bath. I've always, always preferred baths, and now I live in a place with the greatest bath tub. The bath serves me well, it helps calm my spirit and helps me start my day. I do my hair, I like to put some makeup on. When I visually look good, I feel good. I take an Uber to my office downtown. I don't like driving anymore and if I can avoid taking the train, I will. I probably get to the office around 11:30 or 12 and by that time, I've taken care of everything I have to do on a personal end and can see what's going on in the office.
On why she doesn't stick to one kind of exercise:
I dabble in a little bit of everything in fitness. If I'm into bike riding, then I'll take a ride. Or I like to take walks. Typically I exercise in the morning for around an hour. I work in Tribeca, so sometimes I'll walk home over the Brooklyn or Manhattan Bridge. I like to switch it up.
On why she makes it a point to go into her office as often as she can:
Our staff is less than ten people. I'm old school and find that my presence in the office is very valuable. We communicate very well over internet and email, but I find that when I'm in the office, the morale is just how I like it. I like to show my face in the office even if it's for an hour, but typically I like to spend at least a good four or five hours in the office per day. Though honestly, when I hit the office, I wish I could change my name. [Laughs] Everyone needs approval and they need to know what the next steps are. On a Monday, which is our most hectic day, I probably spend four or five hours in the office.
I enjoy meetings because I like face-to-face communication. I'm able to get more intel on what's going on, all the specific nuances — and information that is valuable to know about the tasks at hand. We're dealing with human beings so you want to know that things are going to be handled with care.
On why she always takes time out for her personal needs:
I've learned to incorporate the things that need to be fulfilled in my daily life, even if I'm busy. I go to therapy twice a week. Therapy is a place for me to say anything I want or need to say. I can unload the thoughts that are on my mind, I can get anything off my chest. I find it is very helpful as a CEO because it forces me to organize my thoughts and talk through what is on my mind, it forces me to be a better communicator. I'm well-practiced in being a better communicator and what I say is more aligned with what I'm thinking. Not only is that a personal benefit, it's a professional benefit.
On how she's made her company a mostly stress-free workplace:
I strive to work in a manageable environment because I'm more of a front-end girl. I try to anticipate what the potential problems and challenges are as they're happening. Once the strife comes, it's hard to manage that. We have a successful business — it needs to have order. If it doesn't, it can be very chaotic. I'm a Virgo so I'm very persnickety, I pay a lot of attention to organization. Virgos like everything to be organized and I think that I learned that quality through running the business. I try to create environments where I'm able to manage anything. I'm going to carve out time to deal with my staff. I'm gonna carve out time to sit with my emails.
With that approach, when you know what's coming down the pike, when something unexpected comes, there is at least some order in your foundation. When we get a crazy email or we need to ship a million pieces, we know what our routine is, and we pretty much know what to expect. My business is based out of New York City, so there is a lot of agility there. There are many other businesses and partners who I deal with in New York, if I need to face-to-face. There are so many different emergencies and unexpected things that could happen, but having NYC as your home base makes it very easy to react quickly.
On why, even as the CEO of her company, she still finds time to go work in the salon:
On certain days, I still go and do hair at the salon. The salon is our R&D. We have to understand what people's needs are, and we are able to create new products based on what we're seeing in the salon.
We never have a shortage of ideas for what's next. But we really try not to create too many new things at once because that can really hurt a business. There is so much money going into inventory, trying to be trendy, keeping up with the Joneses. If we tried to do that, it might take us away from our focus.
I think women in the salon might think that I don't need to be there, but I want to be there. That interaction keeps me alive. I started off as a hair stylist and I'm very proud of that. From that knowledge and that understanding of hair, we were able to build this business.
On the things she loves most about being the CEO:
For starters, I get a chance to be my own boss. That's a big deal for me. I realized when I was young that I would always have a hard time working for someone. The opportunity to be my own boss is awesome. I was able to start a business with my sister, who passed away in 2014, and running this business is a chance to keep that legacy alive. I want to represent and operate the business that I created side by side with my sister.
We built Miss Jessie's from scratch together: no training, no business school, no real mentors, no business handbook. We were making the rules as we went. It exposes the owners and the founders to understand all aspects of the business. We didn't have the luxury to say, "You do this and I do this." We didn't really divide our labor. That served us well. In her absence, I've been able to keep our business running.
On her commitment to checking out when she gets home every night:
With a cellphone, work is really hard to get away from, so I have a new approach to business. Once I leave the office, I really feel like it's "me" time, it's Niko time. I know that "me" time is really important. Once I get inside my house, I'll peek in on emails every now and again, but I have this new understanding about life. I suppose I could spend the rest of my life working really hard, amassing more money, never stopping. But I realized that there is so much wealth in different areas of my life, so I'm trying to take time out for happiness and joy.
I try to make sure that I'm not a slave to what's going on in the social media world either. Every now and again I will do exercises with myself where I don't post on social media. I focus on interacting with my family, taking a personal interest in myself. It forces me to think differently about who I am.
This interview has been condensed and edited for clarity.