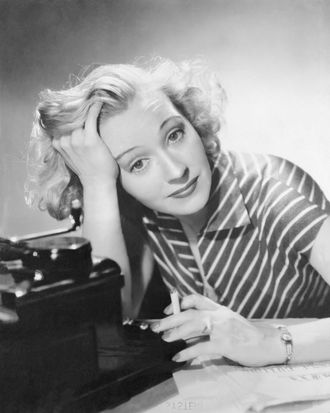 Self-actualization or self-sabotage?
Photo: Bettmann/Getty Images
Julie, 28, is a copywriter for an advertising agency in Seattle. She makes decent money and enjoys her job, but she also feels stuck. Since she graduated from college, she's been toying with the idea of getting an MFA in writing, but she's worried about the financial toll it'd take on the rest of her life. Most programs take two or three years, and the ones she's heard of cost more than $50,000 — money she doesn't have. Is it possible for her to pursue an MFA without bankrupting herself and/or sabotaging her future financial security? Or would it be a total waste of money, just like so many people say? How can she justify it?
The mercurial value of an MFA slides somewhere between "the best money I ever spent" to "downright financial suicide," depending on whom you ask. "Being an artist is a big gamble," says Arthur Gibbons, director of the highly ranked MFA program at Bard. "I salute anybody who tries to do it, and I try to help them as much as I can. It's not an easy road at all, financially."
Despite the threat of financial hardship, MFA programs are bustling. By Monday's admission deadline for 2017, Bard had received 41 applications for the 4 writing spots in its 2-year program, which costs approximately $60,000. If 10.25 percent seems like a low acceptance rate, know that it's actually on the higher end for the 50 top-ranked MFA programs in writing, whose rates all hover somewhere beneath 12 percent. Most require at least two years of study and cost between $40,000 and more than $100,000 in total tuition and fees. Not an easy road, indeed.
You can't put a price on self-fulfillment, and plenty of writers have shouldered considerable debt for MFA programs and gone on to great success. Some of them have even written about it: "Over the years I've taken to saying — sometimes with astonishment, other times with anger, but mostly with a sense of resigned, distorted glee: 'I'll be paying off my student loans until I'm 43!'" wrote Cheryl Strayed in 2011. This was nine years after she got her MFA in fiction writing from Syracuse University, and just one year before her memoir, Wild, debuted as a runaway best seller and was optioned by Reese Witherspoon to become an Oscar-winning film.
These tales of acclaim and (relative) fortune may represent the dream, but stories of cash-strapped writers haven't exactly deterred people, either. The Iowa Writers' Workshop saw a 10 percent uptick in applications after it was featured on HBO's Girls — a portrayal that got mixed reviews but certainly didn't sugarcoat the bare-bones lifestyle of its students. If you decide to go down this road, this will be a stark reality.
It takes a healthy imagination and a certain ego to be a good novelist, but those traits can also spell money trouble, MFA or not. No matter how optimistic you are about forking over $60,000 to $100,000 (or more, including fees) to pursue your dreams, is it worth a lifetime of financial strain? Unpaid bills and hunger are hardly conducive to creativity. How do you draw the line between self-actualization and self-sabotage?
From a financial standpoint, these programs are a lousy investment of your money, in that your degree is very unlikely to return anything close to its dollar equivalent in postgraduate job opportunities. Creative writing is a saturated market that doesn't pay much no matter how talented you are. Even your best-case scenario — getting scouted on campus by a big literary agent who wants to buy your first novel — probably won't cover your loans; the going rate for an average first-book deal ranges between $500 and $15,000. Teaching jobs are few and far between, too.
Even so, some grads think it's worth it, and have found a way to deal with the financial consequences. "I took on massive amounts of debt to pay for what many would consider to be the best MFA program in the country, and it was definitely a worthwhile investment," says Renata, who requested that I not reveal her real name or school in this piece. Today, she has a job in her field of study and owes about $90,000 from her two years of grad school. "The quality of my work post-grad is astronomically better than it was before, and I don't think it's a depth or nuance that I could've gotten to on my own," she says. "I needed wonderful professors, and I am forever grateful for that experience."
She does subscribe to the belief that you should go big or go home, though. "I recommend getting an MFA only if you get into a top program," she says. "It's a ridiculous waste of money if you're not going to come out with the clout and contacts to succeed. MFA programs don't teach you how to be an artist in the real world, so the prestige and network are necessary to put you in front of the right gatekeepers and help you through the logistics."
To deal with her debts, Renata is on an income-based repayment plan, which requires her to pay about $60 per month, and she is enrolled in a loan-forgiveness program. "It's great," she says, "because based on the amount of debt I'm in and the average salary in my field, those loans are never ever getting paid back, realistically."
The good news about aiming for only top schools: Many of them are also the most well-funded, and provide opportunities to waive tuition entirely (or at least reduce it) through teaching fellowships. These coveted waivers are limited, but not always: Brown, Cornell, the University of Texas in Austin, the University of Virginia, and over 50 others waive tuition for every one of their students (but most only accept between 8 and 12 per year). According to one report, more than 70 percent of the top-50 writing programs offer full funding to at least half of their students. If you don't get into one of these programs, it might be wise to hold off.
Another option to explore is a low-residency program, which distills on-campus time into two-month intensive periods each summer so that students can work independently (and hold full-time jobs) for the remainder of the year. Some of these programs, particularly at Bard and Bennington, generally cost less, too. They also tend to attract older applicants — usually in their 30s — which has its advantages. "A year-round MFA program might be more appropriate for someone right out of undergrad, because that's how they're comfortable managing their time," said Gibbons. "But for students who have been out of school for a while, a low-residency program offers a great opportunity to concentrate on work they're committed to. They also really know that this is what they want to do."
Taking a few years to work after undergrad is universally advisable. "I recommend at least five years in between college and grad school," says another, friend, Fiona, who attended RISD. "My younger classmates definitely struggled more during the program, and I think had a harder time finding work after graduation because they had less of a network to return to."
So, Julie, my recommendation to you: Apply, but only to the schools you're dying to go to — ideally, ones that will waive your tuition, too. These programs are extremely selective, so if you don't get in, let your bank account breathe a big sigh of relief and then check out the many resources for finding local writers' workshops, seminars, and other educational opportunities that cost much less and won't eat up two or more years of your life. (And then, if you still want to, apply again — programs often turn down applicants because they don't seem ready yet and accept them in subsequent years.) If you do get in, work like hell to get a teaching fellowship, and talk to the program's administration about grants and other funding possibilities.
You can do more research on this database, created by the Association of Writers & Writing Programs; I'd also recommend comparing schools in MFA Nation, a comprehensive guide put forth annually by Poets & Writers Magazine, which details curriculum highlights, standout faculty members, tuition costs, fellowship opportunities, and other extremely useful information for prospective students. (It'll either make you want to bury your wallet, or get even more starry-eyed — or maybe both.) An MFA shouldn't be an escape plan from your job, or even your life; instead, it should be a proactive decision to pursue something you've already begun to create. If you do choose to go down this road, have a plan (and a realistic expectation) for what you want to get back from it — because it won't be money.