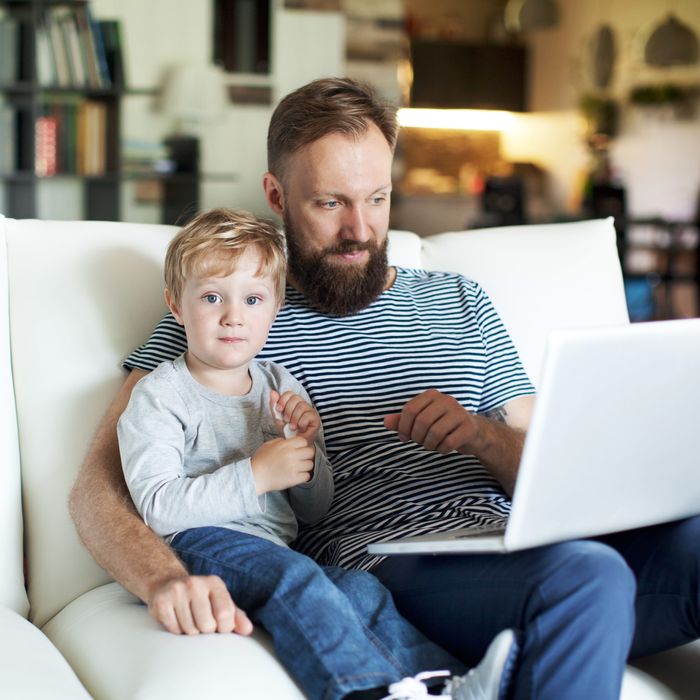 Photo: yulkapopkova/Getty Images
On Saturday, an estimated 485,000 people took part in the Women's March on Washington. Among them were several women from the suburb of Montclair, New Jersey — a town that skewed 84 percent pro–Hillary Clinton — where, as reported by the Times, their absence left men with the daunting prospect of, uh, having to do stuff for themselves.
During the weekend, women were conspicuously absent from the only three places that apparently constitute their natural habitat: Starbucks, yoga studios, and being with their children. The latter proved the most challenging for the town's men, who were forced to scrounge for food, firewood, and Baby Einstein DVDs — sometimes resorting to fighting their fellow sweatpants-clad, soft-bodied dads for resources.

Take Steve, whose bravery during this dark time will not go unnoticed:
Steve Politi, a sports columnist for The Star-Ledger of Newark, missed the Rutgers men's basketball game on Saturday to stay home with his two children. He did the soccer-game thing, set up play dates (arguably, cheating a bit) and warmed up some leftover pizza for lunch. He also cleaned the refrigerator.

So even though Rutgers earned its first victory in Big Ten Conference play this season, Mr. Politi, a prolific writer, was not there to describe the win.
The women fortunately returned home from their long journey on Sunday. Any more time gone and the town's men would've forgotten our written language, fashioned new houses entirely out of dad sneakers, and dragged the espresso machine out of the Starbucks and into the main square to worship as their new god.
Update: Per the Huffington Post, the writer and the editor of the story both apologized for it:

"It was a bad idea from the get-go," said Wendell Jamieson, the editor who oversees the Times' Metro section, where the story appeared on Sunday. "It was conceived with the best intentions, but it fell flat. And I regret it."

Filip Bondy, the freelancer who wrote the story, said, "Sorry, sorry, sorry."