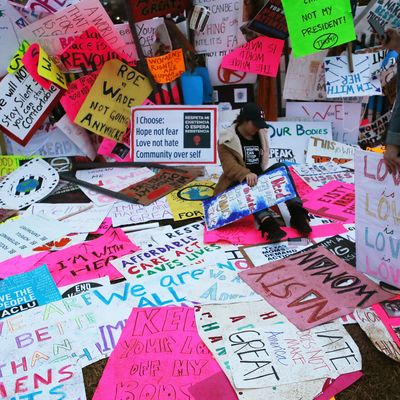 Signs left at the White House on January 21.
Photo: Mario Tama/Getty Images
The various Women's March events across the world produced some epic protest signs — from witty quips about small hands to more serious placards about women's reproductive rights. At the end of Saturday's events, many marchers left their signs at government buildings (such as the White House), Trump-owned buildings (including those in New York and D.C.), and other public areas, causing many to wonder: What will happen to these important works of protest art?
Luckily, several museums across the world — from Washington, D.C., to Canada — as well as a number of libraries and digital publications have taken to Twitter to reveal that they have been collecting signs locally.
No word yet as to whether these signs will be used for future exhibits or merely for archive purposes, but at least they're being preserved.