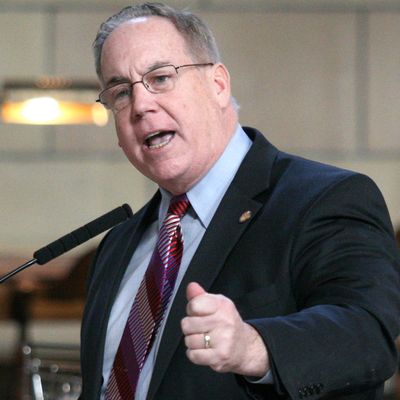 Bill Kintner.
Photo: Nebraska Unicameral Legislature
On Wednesday, Republican Nebraska State Senator Bill Kintner stepped down following criticism from both the public and fellow lawmakers over an offensive tweet he sent out the day after the Women's March.
Kintner retweeted a now-deleted tweet by Larry Elder, a conservative radio host. In it, three women are pictured holding signs referencing Donald Trump's "grab them by the pussy" comments; Elder's comment was "Ladies, I think you're safe."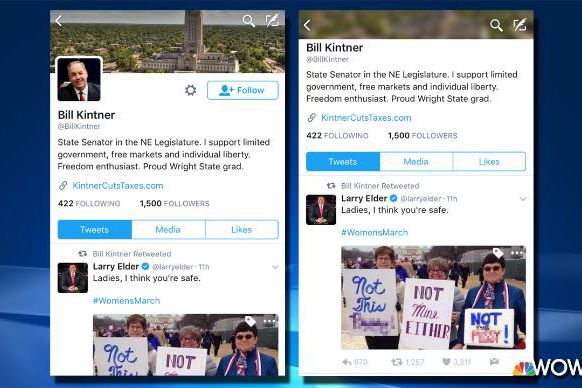 Following backlash, Kintner released this statement:'"By retweeting a message, I was not implying support for putting women in fear of their personal safety. I took down the retweet as soon as I became aware that it was being misconstrued."
He is not the only state senator to come under fire for posting about the Women's March: Indiana State Senator Jack Sandlin faced criticism after sharing a meme with a march photo and the words "In one day, Trump got more fat women walking than Michelle Obama did in eight years."
Per the Lincoln Journal Star, Kintner's resignation came shortly before his colleagues were set to meet and consider his expulsion.
This was not the first instance of Kintner coming under scrutiny for inappropriate behavior. In 2016, he was embroiled in a scandal after using a state laptop to trade explicit messages and videos with a stranger. After he masturbated into a webcam, the woman threatened to post the video if he didn't pay her $4,500. He was eventually fined $1,000 for his illegal use of a state computer, and was urged to resign at the time.