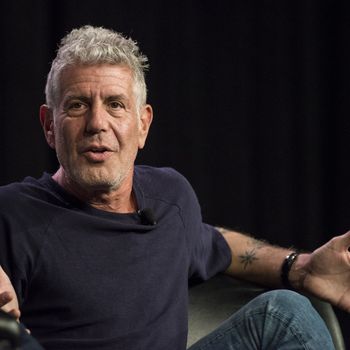 Anthony Bourdain.
Photo: David Paul Morris/Bloomberg via Getty Images
Bad-boy chef Anthony Bourdain always tells it like it is. You gonna overcook your steak? Not on his watch. You want to get recipe tips from Paula Deen? Bourdain won't let you. Planning on "detoxing" in the New Year? Uh, give me a break, man. Don't be a rube!
If you're seeking some inspiration for your New Year's resolution for 2017, don't go looking in a fitness magazine. Instead, we've lovingly imagined what it would be like to have Bourdain — the everyman's hero — be your guru in finding a healthier, happier you in 2017.
ON LOSING WEIGHT
Don't fucking lose weight. Next question.
ON EATING HEALTHY
When you're sitting in a remote café on the coast of Corsica and a young woman with incandescent skin and a beautiful mouth comes up to you and says, "Monsieur, would you like your burger medium or medium-rare?" and you respond, "I'm not eating meat because I'm a pansy with no personal fortitude or self-control and I live off of organic snap peas now," you'll hear my voice gently whispering in your ear, "Eat the fucking burger, or you're a no-good loser."
ON DRESSING BETTER
All you need in this life is a clean white T-shirt, a pair of camel suede ankle boots, and a leather blazer. Are some squares inviting you to a party where you have to put on a penguin suit and dance around like a fucking monkey? Don't live by their rules. Be the guy who shows up in a clean linen shirt, cowboy boots, and sunglasses. Now that's the kind of person who deserves the respect of his peers.
ON ACHIEVING PEACE OF MIND
Oh, so you're going to start "meditating"?? You're planning on getting into "mindfulness"?? Want to be "one with yourself" in the New Year? I've got three words for you: Let It Bleed. Stones album from '69. Ever heard of it? That'll purify your black heart. Call me when you've achieved Zen.
ON SAVING MONEY
Do you think Johnny Thunders ever saved a penny in his life? Do you think Johnny Thunders had a 401k? Do you think Johnny Thunders ever said, "Ugh, I wish I could play this New York Dolls gig, but I have to work my part-time job at Shake Shack tonight"? No. Think about it, man. Capitalism is for stooges.
ON BECOMING HAPPIER
When you're sitting in front of a plate of fresh-boiled crawfish and you're about to mercilessly suck the juices out of their little bitty heads, that's when you know you're the happiest you're ever gonna be. Relish it.
ON GETTING MORE SLEEP
Night is when the real wolves come alive.