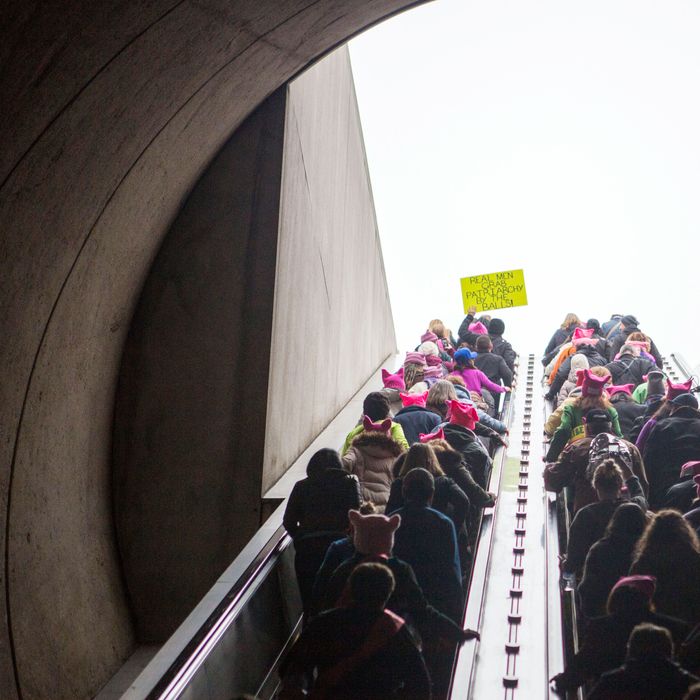 Photo: Jessica Kourkounis/Getty Images
Like millions of people, I spent Saturday squeezing through crowds, holding my sign aloft, and trying to time my chanting correctly. I was in Washington, where I couldn't get close enough to the stage to hear a single rally speech and didn't even lay eyes on a Jumbotron — but you didn't need to do that to know that many of the messages were about the future. I saw the posters that said, "This is only the beginning." They gave me chills.
Sunday afternoon, I climbed into a Lyft and the driver asked me if I had marched the day before. I told him yes. He said he'd had a lot of passengers who had marched, but the whole thing had left him feeling despondent.
"Nobody knows what to do to solve the problem," he said.
The immediate problem, of course, is Donald Trump, who is still the president. And the Republican-controlled Congress. And the 32 state legislatures under full GOP control. And the policies that all of these men are going to enact. The driver wanted to know what the march would do about the problem, and I didn't have a good answer for him.
But then there's the big-picture problem, as defined by the Women's March platform and most of its attendees: a system of interlocking injustices that is much bigger and older than Trump's presidency. And when you define the problem that way, it's worth remembering that, for many, the march was not a beginning. For people who have been showing up to protest police shootings of unarmed black men, or who devoted their weekend hours to getting out the vote this fall, or who are already involved in any number of causes, this was yet another point on a path to progress.
But for those who did feel the march was a new motivation to work on solving both problems, the "nobody knows what to do" feeling is real. As someone who doesn't fit neatly into either group — this wasn't my first protest, but it did feel like a new moment — I've been thinking a lot about what I need to do next.
Cover the basics. Are you registered to vote? Yes, of course you are. But do you vote in all elections — even local races when there is no presidential candidate on the ballot? If your state allows it, signing up to vote by mail in all elections can make it a lot easier to follow through. And apps like TurboVote send you reminders when elections are coming up.
Use the buddy system. I was constantly checking to make sure I was still with my crew as we jostled through thousands of bodies at the march — which, it later occurred to me, is actually a pretty good approach to post-march action. If you're interested in showing up for something — a volunteer opportunity, a march, a city government meeting, whatever — make plans to go with someone. You can gather the group you marched with and follow the blueprint created by the official Women's March team, which walks you through ten different actions for the first 100 days of Trump's presidency.
Schedule it. If I don't put something in my calendar, there's a good chance I'm going to flake. Think about blocking off an hour each week to write letters and make calls. The Countable app makes it easy to follow issues and politicians — you can open it at least once a week to see what Congress is considering. Then spend your scheduled hour telling your reps how you'd like them to vote.
Follow your own instructions. Where do you start when there are so many issues you care about, so many groups who are threatened? If you carried a sign, wore a shirt with a message on it, or covered yourself in buttons on Saturday, you've already written your own instructions. Pick one of those messages and decide you're going to act on it. If you chanted "My body, my choice," become a clinic escort or make a regular donation to the National Network of Abortion Funds, which directly helps women pay for reproductive care. If you carried a cardboard cutout of Ruth Bader Ginsburg wearing a crown, educate yourself about how federal judges are appointed in your state, and make it an issue you write to your reps about. And if you carried that Shepard Fairey image of a woman in a headscarf, ask your local Muslim community center how you can stand in solidarity.
… But make sure you're not just focused on yourself. When I was scrolling through the flood of photos online after the march, I was struck by a sign that said, "White Women: See you at the next Black Lives Matter march." This is one of the most important lessons of the Women's March: It's not all about you. Meaningful action usually doesn't feel safe, comfortable, or familiar. Pick at least one issue that does not affect you directly — if you're white, police violence and criminal-justice reform is a great one — and commit to educating yourself about and taking action on it. If you're a white woman who was happy to see men marching on Saturday — but also found yourself annoyed when they were the voices leading the chants — take those lessons to heart when you show up to support the Movement for Black Lives or call for immigrants' rights. Stand alongside the organizers, but don't expect to be the one leading the chants or doing the media interviews. Organizations like SURJ make it easy to figure out when and how to show up.
Do it your way. Part of being a person who does things rather than just sharing articles on social media is figuring out how to do it in a style that matches who you are. If you get anxious in crowds, maybe one-on-one volunteering is for you. Are you a great logistics person — the one who coordinated rides and meeting places to the women's march? Be the person who finds a time and location for your friends to meet to make calls and write letters. There is no "right" way to get involved: Figure out what works for you. Then do it.