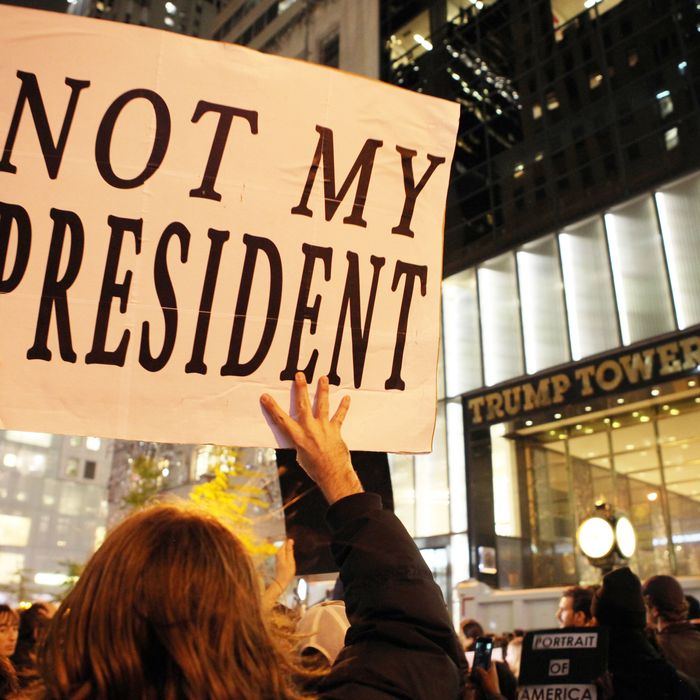 A protester outside Trump Tower on November 9.
Photo: Barcroft Media/Barcroft Media via Getty Images
If you can't make it down to D.C. for the 200,000-person-strong Women's March on Washington, there's a New York counterpart on the same day, among other protests.
January 19, 6 p.m., Trump International Hotel
A protest outside Trump International Hotel* planned by Michael Moore, Mark Ruffalo, and Alec Baldwin is scheduled for 6 p.m. the night before the inauguration. Per the New York Daily News, Mayor de Blasio, Rosie Perez, and the Reverend Al Sharpton are reportedly expected to attend as well.
January 20, 5 p.m., Foley Square
Should you want to protest on Inauguration Day itself, the Democratic Socialists of America, Socialist Alternative, and other groups are organizing a January 20 march — NYC Stand Against Trump — that starts at 5 p.m. in Foley Square and will continue to the Trump Building at 40 Wall Street.
January 21, 11 a.m., Dag Hammarskjold Plaza
The January 21 NYC Women's March will be kicking off at 11 a.m. at Dag Hammarskjold Plaza (47th Street between First and Second avenues). The march route will go down Second Avenue to 42nd Street, where it will turn west and continue to Fifth Avenue, then up to Trump Tower at 56th Street. Over 75,000 people are expected to attend.
If you're planning on taking part in any or all of the above protests, the Cut has created an extensive preparation guide for the Women's March on Washington that may prove helpful.
And, as always, don't forget your sign.

Update: A previous version of this post incorrectly stated that the protest would be taking place at Trump Tower.