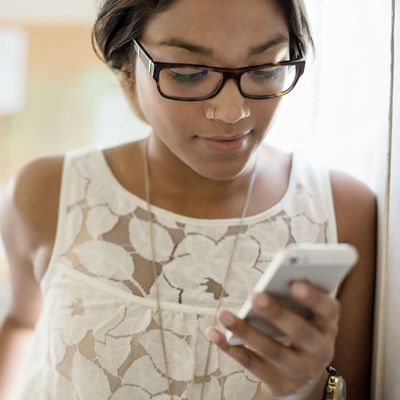 Online-dating fraud is at a record high in the U.K.
Photo: Hero Images/Getty Images
In the digital age, many of us turn to dating apps to find love (or get laid) — swiping left or right until we find the right person. However, there are still risks involved — particularly in the U.K., where the number of people defrauded by dating-app scams reached a record high in 2016.
As the BBC reports, the National Fraud Intelligence Bureau in the U.K. revealed that 3,889 people were scammed through "romance fraud" last year — handing over more than £39 million to potential mates. That's up from just 2,824 dating-scam reports, and losses of £27 million, in 2013. Additionally, the U.K.'s cyber-reporting center, Action Fraud, gets over 350 reports of online-dating fraud crimes each month. If you're wondering how this even goes down, consider the case of "Nancy," a 47-year-old single mother who joined Match.com after her 2015 divorce.
Nancy connected with an Italian man named "Marcelo" and they chatted for around six weeks, at which point he told her he had been mugged in Turkey and also needed help paying for his son's surgery. Unsurprisingly, Nancy ended up sending him money.
Per the BBC:
"I wasn't comfortable, and then I got so far in I couldn't get myself out, and I didn't want to walk away having lost £50,000 or what-have-you, so you keep going in the hope that you're wrong and this person is genuine." Nancy says she's now facing bankruptcy after having lost "over £300,000, maybe even over £350,000".
According to Steve Proffitt, deputy head of Action Fraud, Nancy's case is a bit extreme, as most victims only lose around £1,000 each. "A lot of the online dating fraudsters we know are abroad. They're in West Africa, Eastern Europe and it's very difficult for British law enforcement to take action against them in those jurisdictions," he told the BBC.