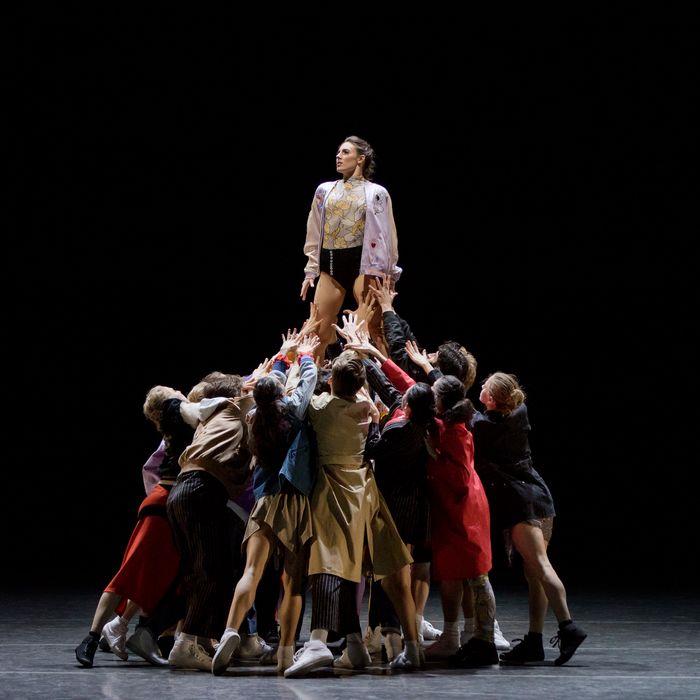 Tiler Peck and company in The Times Are Racing
Photo: Erin Baiano/Paul Kolnik
At the same time that protesters were fighting their way onto the JFK AirTrain to protest the ban on refugees and residents from seven Muslim nations, a choreographer and a fashion brand were making a political statement of their own. Opening Ceremony designers Humberto Leon and Carol Lim have always been civically engaged – they devoted their last show to exploring issues like transgender rights and the need for affordable child care, and registered attendees to vote. This time, they doubled down, trading a New York Fashion Week show for a provocative ballet by choreographed by Justin Peck and titled The Times are Racing.
Dancers wore T-shirts and tank tops with '80s-style lettering that evoked the ACT UP and Choose Life logos, with slogans reading "Defy," "Protest," "Unite" and "Fight." (The pieces make up the brand's Action capsule, which is being presented as a see-now, buy-now collection.) A few months ago, those might have felt like empty language, but in the context of world events; Peck's choreography, which depicted principal dancer Amar Ramasar – one of the few non-white dancers in the company, who was born in the Bronx to Trinidadian/Indian and Puerto Rican parents – being supported by and assimilated into the 20-person group, and the soundtrack (Dan Deacon's protest suite "America,") it came across as especially relevant.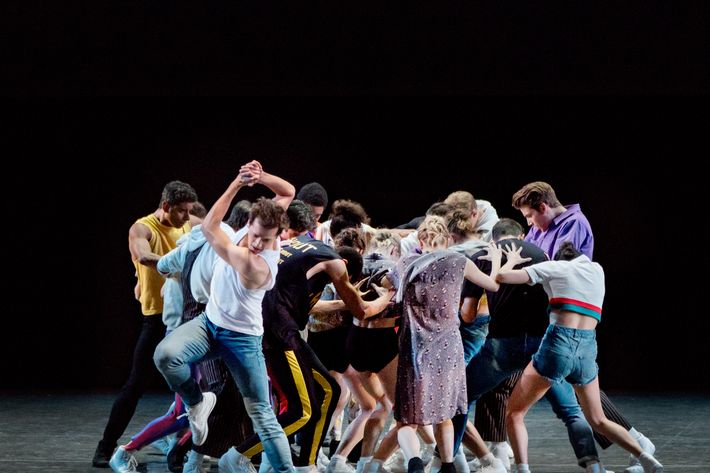 The rest of the spring 2017 collection was not represented onstage, but the collection did directly inspiration from the ballet costumes seen last night, which were designed by Leon. For the collection itself, the designers looked to photos of Ellis Island, where immigrants streamed in from all nations in the 19th century, and incorporated Americana motifs like denim and workwear-style overalls.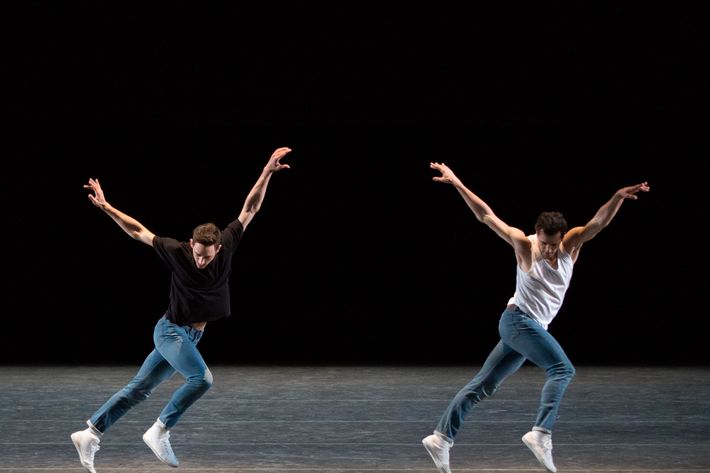 Since this was Opening Ceremony, a fashion-hipster contingent mingled with the usual balletomane crowd – including Solange Knowles, in a patent-leather dress, and St. Vincent, wearing a suit. And after the performance, Deacon took over the stately promenade for a DJ set, proof that Opening Ceremony certainly knows how to make even the most traditional institutions feel current – and extremely relevant – again.