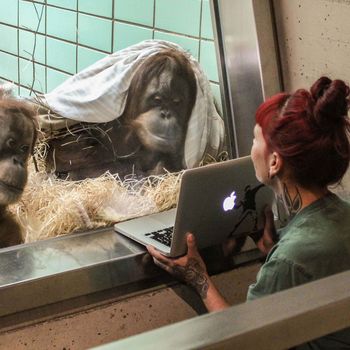 "Tinder for orangutans."
Photo: Barcroft Media/Getty Images
Like the rest of us, female orangutans are looking for love (or at least, a decent hookup), but they're reserving the right to be picky when it comes to selecting a potential mate. So to help move the breeding process along, researchers at a Dutch zoo have started an experiment called "Tinder for orangutans" that sounds a lot like contemporary dating.
As The Guardian reports, the Apenheul primate park in Apeldoorn has been showing an 11-year-old female orangutan named Samboja pictures of males from a global great-ape breeding program on a touchscreen — with the goal of allowing her to "select" one she might actually be into. The researchers are hoping this will give them more insight into how orangutans pick their mates, especially because of how selective they can be, Thomas Bionda, a behavioral biologist at the zoo, reportedly told Dutch broadcaster NOS.
Since the male orangutan could come from as far away as Singapore, the zoo also hopes to increase the chances of a successful encounter. "Often, animals have to be taken back to the zoo they came from without mating," Bionda said. "Things don't always go well when a male and a female first meet."
The researchers got the idea for the program after earlier tablet tests with bonobos showed a "heightened interest" in photos of other bonobos mating or grooming each other. As a result, scientists set out to build a touchscreen table that Samboja could use. Now that the program is in use, they're wondering if pictures alone will be enough to spark attraction between two animals, or if there needs to be more of a spark (or smell).
"This is completely digital, of course. Usually, smell plays an important role too. But with the orangutans, it will be what you see is what you get," Bionda said.