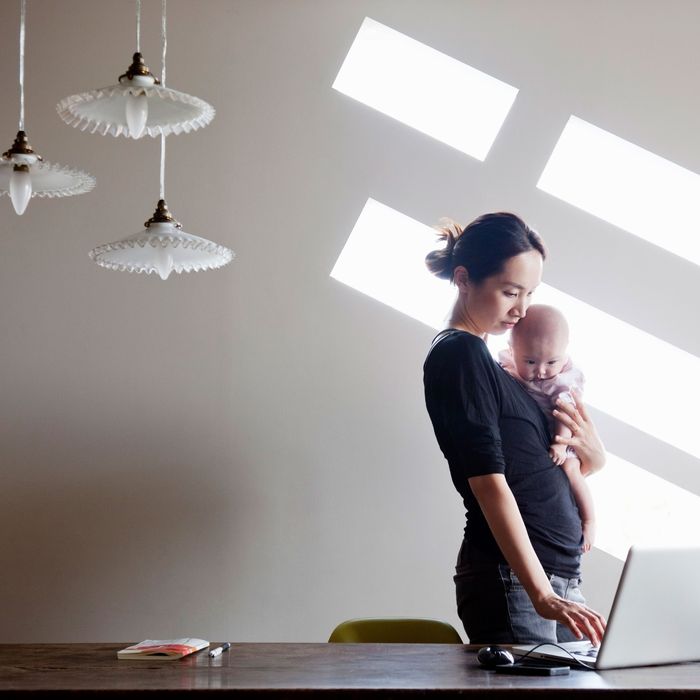 Photo: Kohei Hara/Getty Images
Those who criticize paid family leave and paid sick days have claimed that such programs are burdensome to employers and lead to increased unemployment. Yet, a new report found that ensuring access to paid family leave and paid sick days helps companies save on health-care costs, decreases turnover rates, and increases productivity in the workplace.
The report, published Thursday by the Center for American Progress, sought to dispel the myth that these programs are so-called "job killers." Currently, over one-third of workers in the private sector currently don't have any paid sick days — and only 13 percent have access to paid family and medical leave. The lack of these programs mostly affects workers who "can least afford unpaid time off from work," whereas those in the highest earnings quartile are four times more likely to have paid family leave and over twice as likely to have paid sick days.
The analysis looked at 19 cities and states across the U.S. where paid-sick-day laws were passed between 2007 and July 2015. It found that in 16 of those areas, unemployment had not increased one year after paid sick days were implemented. Furthermore, in two of the three areas that saw increased unemployment, the laws happened to coincide with a recession.
Similarly, the analysis also determined that the three states — California, New Jersey, and Rhode Island — where paid family and medical-leave laws were passed didn't see their unemployment increase either. All of this evidence goes to show that giving workers paid sick days or paid family and medical leave doesn't impact employment rates.