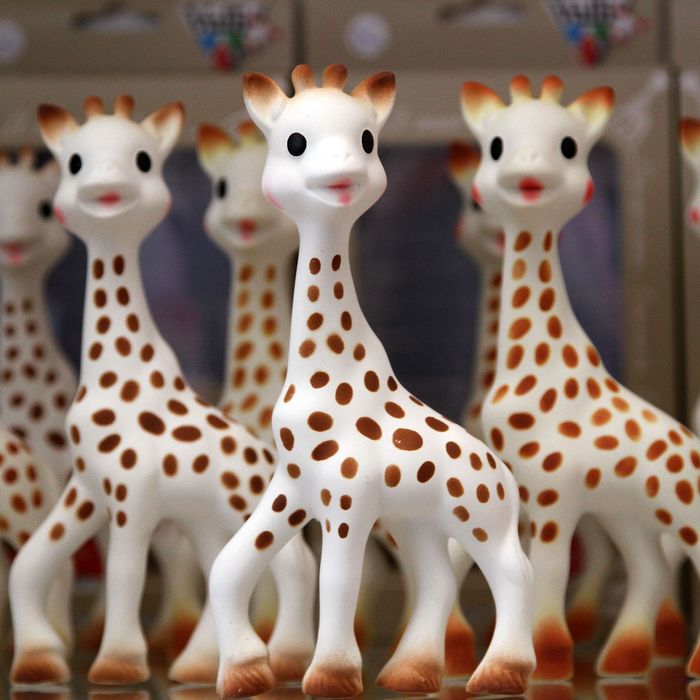 An army of Sophies.
Photo: VALERIE MACON/AFP/Getty Images
Sophie, manufactured in France (where she is known as Sophie la Girafe), is a teething toy common among parents willing or desperate enough to spend $23.50 on a piece of rubber. Over the weekend, she was on the minds of all those who clicked on a Good Housekeeping link with the headline: "WARNING: Your Baby's Sophie the Giraffe Toy Might Be Full of Mold."
The post explains that a pediatric dentist and mother of two, Dana Chianese, noticed a "musty" smell coming from the hole in Sophie's side. When she slit her open to investigate, Chianese discovered the toy's insides were covered in black mold. Having used Sophie with her own children and recommended her to clients, Chianese was horrified, and, as Good Housekeeping reports, not alone. Amazon reviews, forum posts, and other social-media instances detail similar situations: a slaughtered Sophie, the discovery of mold.
The good news is mold in toys is not a concern for most healthy children. As GH points out, Dr. Lyuba Konopasek, an assistant professor of pediatrics at NewYork Presbyterian/Weill Cornell Medical Center, told Care.com, "exposure to mold in toys is usually not something to be too alarmed about, unless your child has a immune disorder. However, if your child does have a mold allergy, they may start experiencing symptoms such as coughing or itchy eyes."
Since its initial posting, Good Housekeeping has updated with a statement from Sophie's manufacturers, who point to "the packaging and in an explanatory leaflet inside the packaging," which instruct parents "to clean the surface of Sophie la Girafe with a damp cloth." Sophie "should not be immersed in the water nor rinsed off, to prevent water from getting inside, as she may become damaged."
Though this statement (and analysis from other outlets) may prevent some parents from performing investigative surgery on Sophie, my guess is more than a few limbless rubber giraffes landed in the garbage can this weekend, with more to come. And in case you're wondering: Sophie pierces easily with the nearest pair of scissors. While you may or may not find mold inside (mine was fine), you'll definitely be out $23.50.