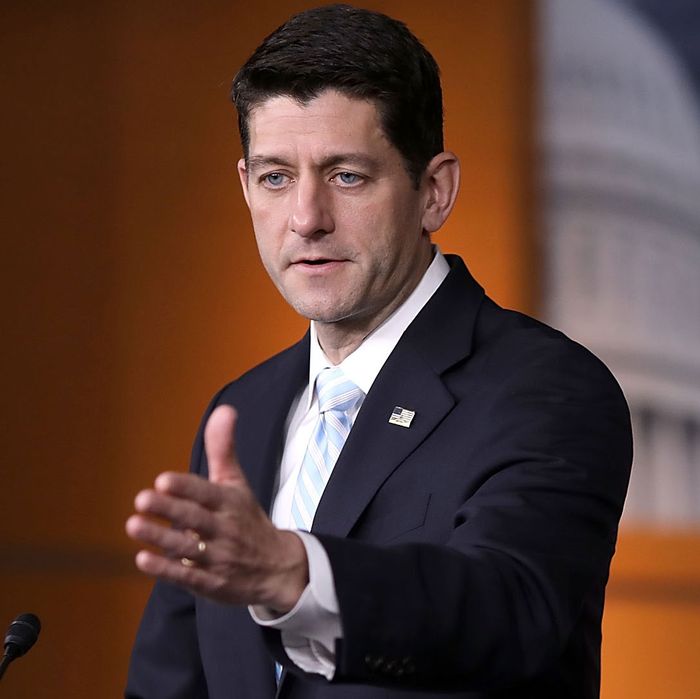 House Speaker Paul Ryan spoke at a CNN town hall on Thursday night.
Photo: Chip Somodevilla/Getty Images
Last week, Paul Ryan confirmed that Republicans plan to strip Planned Parenthood of its federal funding as part of their bill to repeal the Affordable Care Act. "Planned Parenthood legislation will be in our reconciliation bill" was all he told reporters at the time, but at a CNN town hall Thursday night, Ryan elaborated somewhat on his view for a future without Planned Parenthood.
At the town hall, a college student told Ryan she'd used Planned Parenthood's services herself. "I can tell you personally that Planned Parenthood provided help when I couldn't go to anybody else," she said. "So my question for you is: If Planned Parenthood is defunded, then where will millions of women, low-income groups, and people like me go?" Ryan nodded sympathetically before telling the woman, "It's a good question. First of all, I want to make sure you get the care you need."
He went on to say that the federal funds currently allocated to Planned Parenthood would go toward federal community-health centers. "For every Planned Parenthood there are 20 federal community-health centers," he said. "And they provide these kinds of services without all of the controversy." He added, "We don't want to commit taxpayer funding to abortion. And Planned Parenthood is the largest abortion provider." When CNN's Jake Tapper pointed out that taxpayer money doesn't fund abortions because of the Hyde amendment, Ryan agreed, but said federal funding "effectively floats these organizations."
Ryan's assertion that federal community-health centers are prepared to fill the hole Planned Parenthood would leave is flawed, according to Sara Rosenbaum, the founding chair of the department of health policy at George Washington University, who's worked in community health centers for 40 years. "The assertion that community health centers could step into a breach of this magnitude is simply wrong and displays a fundamental misunderstanding of how the health-care system works," Rosenbaum wrote in an article published in September. She goes on, "No amount of efficiency can give them the means to ramp up quickly enough to replace the loss of preventive women's health services of the magnitude that would result were Planned Parenthood clinics to close."