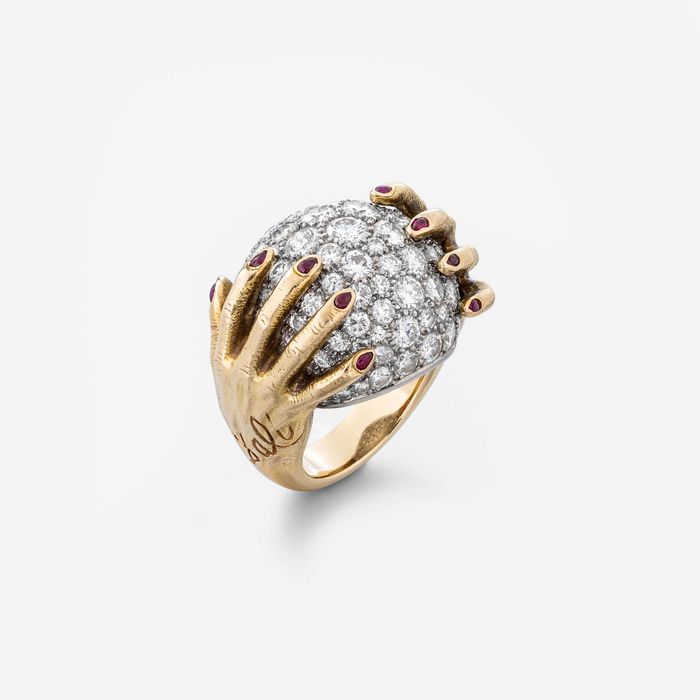 A Salvador Dali hand ring, c. 1950s.
Photo: Courtesy of Winter Antiques Show
This year's 63rd annual Winter Antiques Show at the Park Avenue Armory boasts an impressive array of fine jewelry, including a surrealist Salvador Dali hand ring (shown here) and a Fabergé Imperial brooch made with aquamarine and diamonds.
The show's dealers come from all over the world for the event. Two pieces come from the London firm Wartski, which made Kate Middleton's wedding ring from a piece of Welsh gold given to Prince William by Queen Elizabeth II. Another comes from the New York–based jeweler Kentshire, which also sells at Opening Ceremony and Bergdorf Goodman.
Click ahead to see five of the most interesting pieces on sale this weekend, from January 20 through January 29.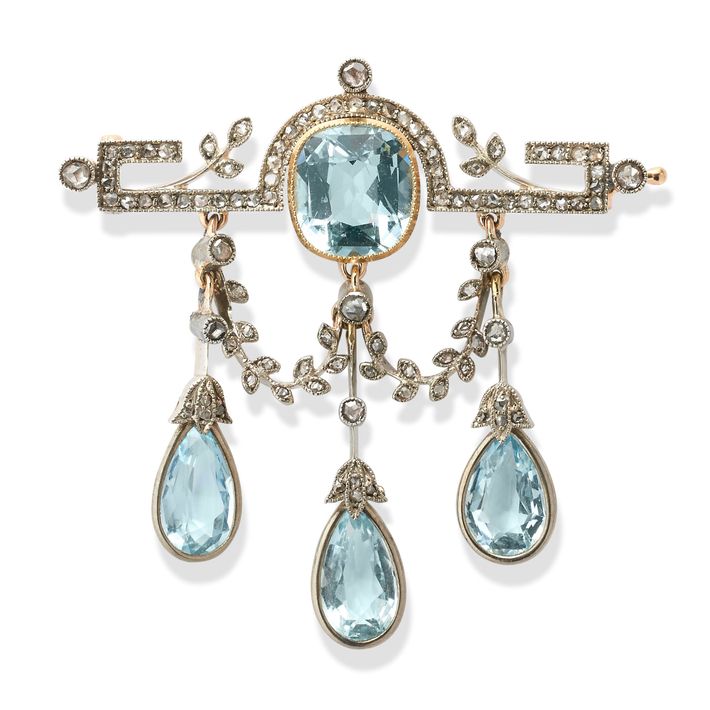 Wartski. An Imperial Aquamarine and Diamond Brooch. Carl Fabergé. Russia. c. 1911. Aquamarines, diamonds, and gold. Price: $50,000 - $80,000. This brooch was acquired by the Dowager Tsarina Marie Feodorovna on March 18, 1911, for 190 rubles.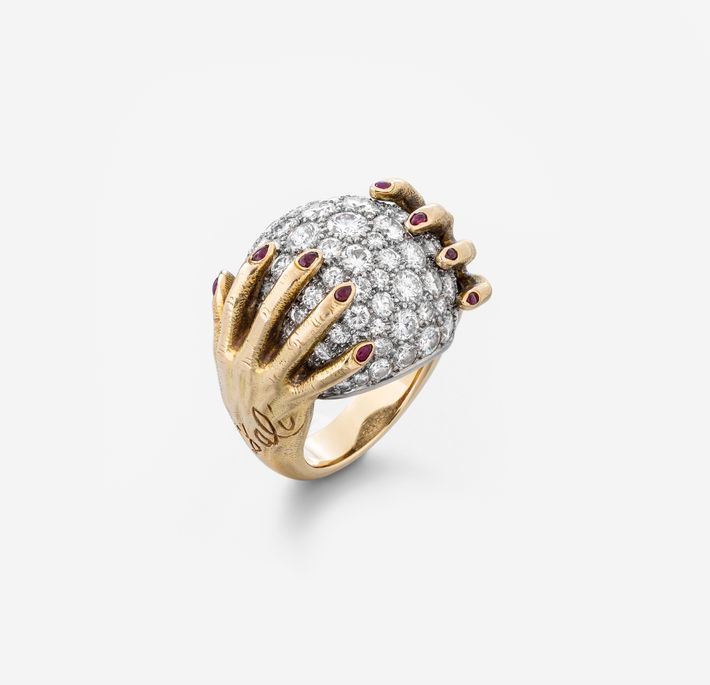 Didier Ltd. Unique Surrealist Hand Ring. Salvador Dali. United States. c. 1950s. 18k yellow gold, cut rubies, and diamonds. Price: N/A. This ring belonged to Mildred "Tweet" Kimball (d. 1999), a "bejeweled fixture of Denver high society and political circles." She was on the board of the Denver Art Museum as accession chairman for 14 years and had her own vast and eclectic art collection, which she housed in a re-created Scottish castle on her "Cherokee Ranch" estate. She entertained her other passions there: wildlife conservation and cattle breeding. Kimball married four times — this ring dates back to her first marriage to Merritt Ruddock, the scion of an aristocratic family with political connections, from 1938 to 1955. He was a member of the U.S. diplomatic corps and an obscure CIA official.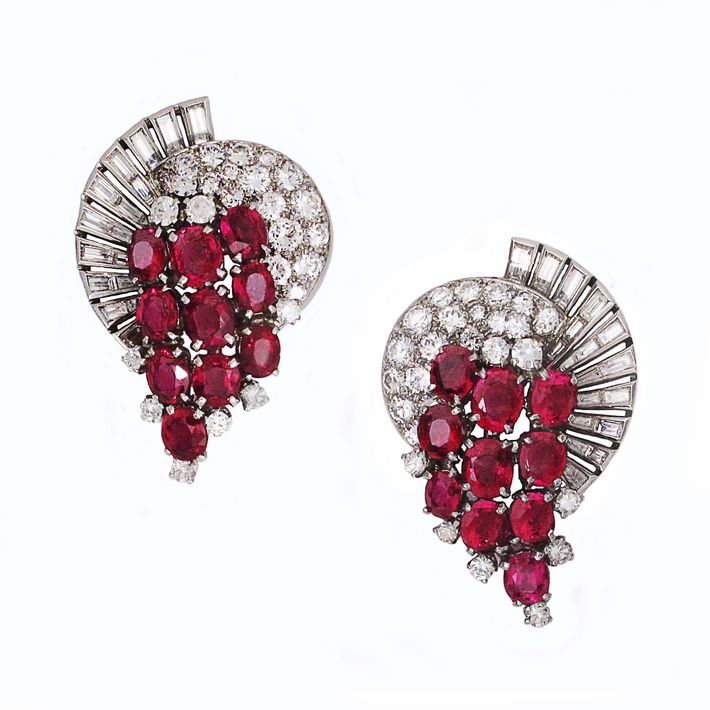 S.J. Shrubsole. A Pair of French Ruby and Diamond Earrings. Unknown. France. c. 1950. Rubies and diamonds. Price: N/A. These are a classic 1950s design with a juicy cluster of rubies, flanked by pavé-set round diamonds and a spray of baguette-cut diamonds. They're platinum set with a cluster of oval cut rubies topped in sprays of single, brilliant, and baguette cut diamonds, 18k white-gold post, and clip backing. Stamped with French gold and platinum marks, no maker's mark. (Twenty oval rubies are approximately 9.5k total weight. Ninety diamonds are about 4.4k.)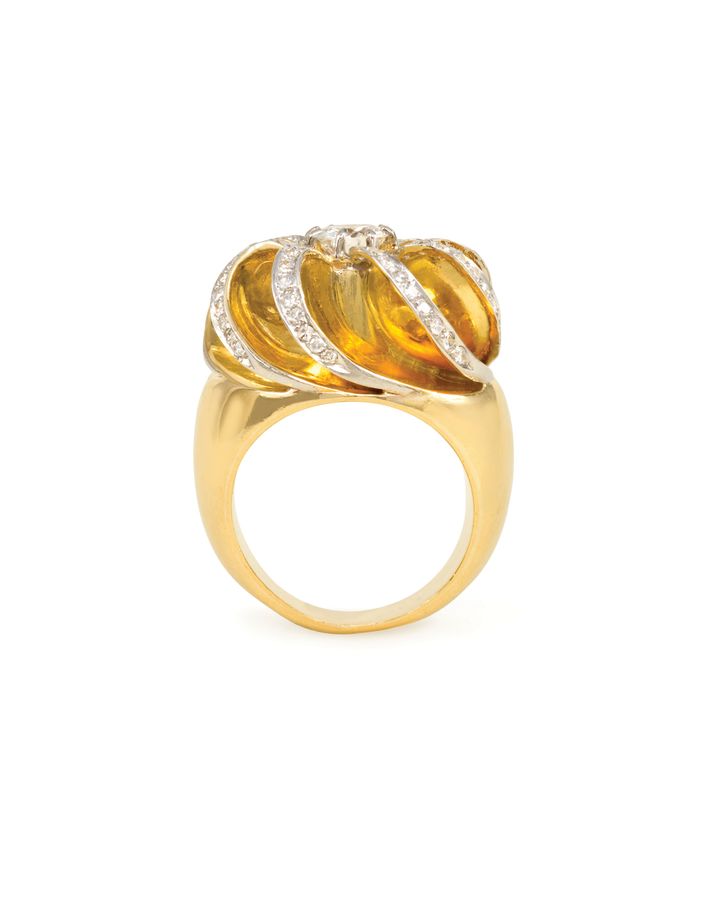 Kentshire. Retro Gold and Diamond Ring of Sculptural Swirled Design. René Boivin. France. c. 1950. 18k gold, platinum, and diamonds. Price: $67,500. This ring was designed by Juliette Moutard in the 1950s. Kentshire, a jewelry firm founded by women, notes that for a large part of the 20th century, the house of Boivin was directed by his widow, Jeanne Boivin. Its iconic designs were largely the work of three women: Suzanne Belperron, Juliette Moutarde, and Germaine Boivin (René and Jeanne's daughter).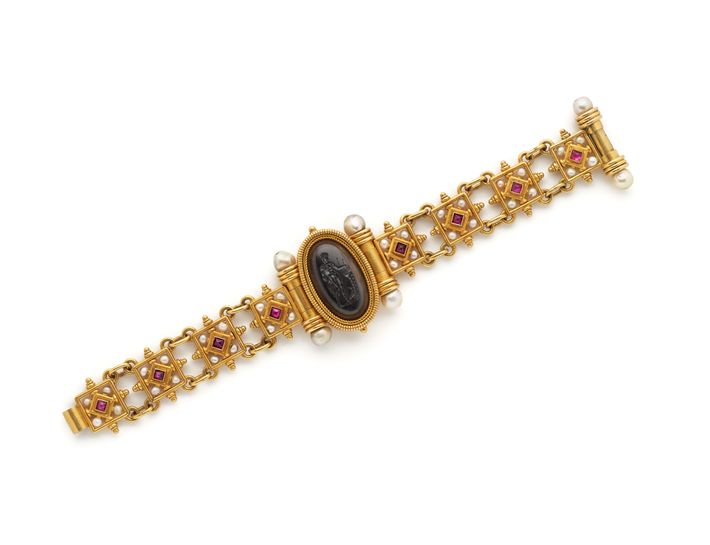 Wartski. A Gold, Gem-set and Hardstone Intaglio Bracelet. Castellani. Italy. c. 1875. Agate, paris, and gold. Price: $50,000 - $80,000. This bracelet's design comes from a sculpture of Meleager by the 4th-century Greek sculptor Skopas. The distinctive square plaques are identical to those seen in a design by Michelangelo Caetani, included in a letter to Alessandro Castellani.