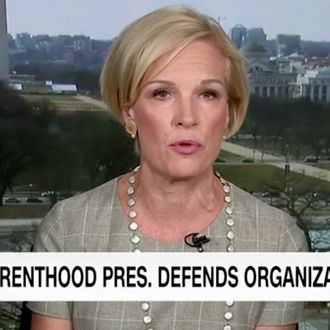 Cecile Richards on CNN.
Photo: Courtesy of CNN
Planned Parenthood president Cecile Richards appeared on Christiane Amanpour's CNN International program on Monday afternoon to discuss the ongoing attacks against reproductive rights in the U.S., when she revealed that the organization has seen a huge increase in women seeking Planned Parenthood services — particularly when it comes to IUDs.
"We've had a 900 percent increase in women trying to get into Planned Parenthood to get an IUD because they are desperately concerned that they might lose their access to health care, and they know that Planned Parenthood is the place that can provide it," Richards told Amanpour.
Richards also explained, once again, that the GOP's war against Planned Parenthood could have devastating effects on women's health, as it will get rid of the vital services the organization provides to 2.5 million people each year. "What we're talking about now in fact and what Paul Ryan, Speaker Ryan, said the other day, is now they will end access to Planned Parenthood preventive care," she said.
The women's health advocate also told Amanpour that she is "proud" to be joining "hundreds of thousands of folks" at the upcoming Women's March on Washington to stand up for women's rights. "But I think what we're talking about is more than a march. I think what is important is that women and men who are concerned about the future of women's rights and women's health in the U.S., that they make their voices heard in whatever way, whether they march, or whether they call their member of Congress, or call their Senators," Richards added.