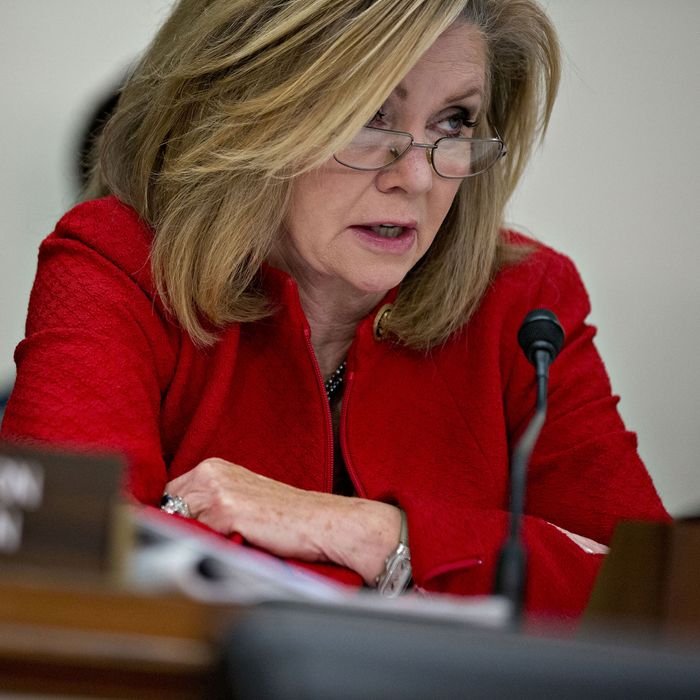 Tennessee congresswoman Marsha Blackburn.
Photo: Andrew Harrer/Bloomberg via Getty Images
The Congressional investigation of Planned Parenthood came to an end yesterday, but not before taking one last shot at massively overstepping its bounds.
The Select Investigative Panel on Infant Lives, led by Tennessee congresswoman Marsha Blackburn, formed last year to investigate the now-discredited sting videos produced by the anti-choice Center for Medical Progress. (The CMP alleged that the videos showed Planned Parenthood executives discussing sale prices for fetal tissue; actually, they were discussing reimbursement amounts for the donation of said tissue to medical research facilities.) The panel has issued multiple subpoenas for abortion providers and medical researchers that failed to redact the names and contact information of fetal-tissue researchers and one doctor, opening them up to harassment.

Now, in a final report, panel Republicans called for an unconstitutional 20-week abortion ban, the defunding of Planned Parenthood, and letting states withhold Title X family-planning funds from certain providers — even though the Obama administration just finalized a rule banning exactly that. The report also urged the 115th Congress to use the appropriations process to ban federal funding for research that uses fetal tissue, despite the fact that such research has saved countless lives. Fetal tissue was used to develop the chicken pox, rubella, and polio vaccines and is still used in medical research. Even the anti-choice former presidential candidate Ben Carson used it in published research.

This report, by the way, was drafted in secret. Panel Democrats were not given a chance to review it or submit minority views, nor did the full panel vote on its release. Ranking minority member Jan Schakowsky of Illinois blasted the Republican majority in a statement, saying the panel "leaves behind a legacy of lies, intimidation, and procedural misconduct. It will be remembered, like the House Un-American Activities Committee and McCarthy hearings for its excesses and abuses of power." (The Democrats released their own report last month.)

On its face, the disbanding of a $1.6 million, hyperpartisan panel sounds like great news. But the reality is that anti-choice legislators now have a majority in Congress and an incoming administration that seems determined to destroy women's reproductive rights: They simply don't need this panel anymore.

Dana Singiser, Planned Parenthood Federation of America's vice-president for public policy and foreign affairs, said in a statement:

Planned Parenthood has been around for 100 years, and is the nation's largest and most trusted reproductive health care provider. Each year we serve millions of women, men and young people with essential services such as birth control, cancer screenings, STD testing and treatment, well-woman exams, and abortion.

Planned Parenthood has never profited while facilitating its patients' choice to donate fetal tissue for use in important medical research. Planned Parenthood affiliates in just two states — about one percent of Planned Parenthood health centers nationwide — offer women this opportunity. For more than a year those health centers have forgone legally permissible reimbursement for costs associated with the donation process.

This partisan inquiry was launched in the wake of massively edited and widely discredited videos, released by anti-abortion extremists, that were purposefully intended to create a misleading picture of Planned Parenthood's services. Planned Parenthood fully and voluntarily cooperated with this investigation, as well as others undertaken in the Congress, providing nearly 30,000 pages of documents, and 9 interviews with Planned Parenthood staff from across the country.

Today's Republican staff report once again demonstrates that this exercise was nothing more than a partisan attack on Planned Parenthood and women's access to safe and legal abortion. Moreover, as the Report of the Democratic Members of the Panel shows, as did investigations by three other Congressional committees, and investigations in thirteen states including a Grand Jury in Texas, Planned Parenthood has done nothing wrong.
This post has been updated to include a statement from Planned Parenthood.