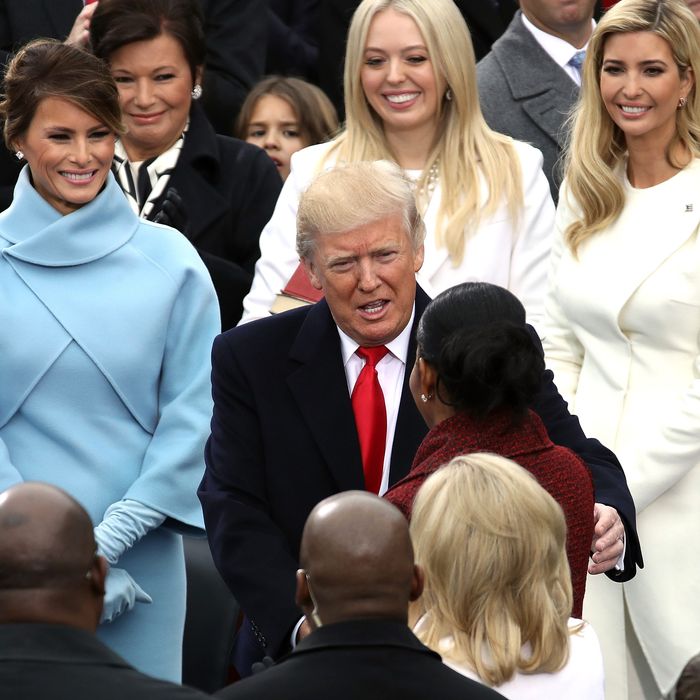 Donald Trump, surrounded by his wife and daughters, greets Michelle Obama.
Photo: Drew Angerer/Getty Images
"I cherish women," Donald Trump said during the presidential primaries. "I want to help women. I'm going to be able to do things for women that no other candidate would be able to do, and it's very important to me."
At the time, Trump was defending himself against accusations that he'd implied Fox News anchor Megyn Kelly was on her period while questioning him, but since taking office he has yet to "do things for women." In fact, some of the actions his administration has taken will hurt rather than help them. A list of things that will impact women as a whole would consist of, well, everything, so here are the concrete things he's done that will restrict women's health care — we'll update it as his presidency unfolds.
1. Reinstated the Global Gag Rule.
On January 23, the third day of his presidency, Donald Trump signed an executive action to enact the Mexico City Policy, otherwise known as the Global Gag Rule. Since Ronald Reagan first enacted the policy in 1984, each incoming Democratic president has revoked it, and each Republican has reinstated it. The rule bans federal funding for international nongovernment organizations that offer abortions. In other words, if NGOs continue to provide safe abortion access (or even information about abortions) to women, they'll lose their government funding.
As an earlier Cut article points out, a 2010 report from Population Action International found that the Global Gag Rule is actively harmful for women's health, and a 2003 report from the Center for Reproductive Rights points out that it contributes to unsafe abortions. What's more, a study published in May confirms that restricting abortions does nothing to reduce their number. But Trump's version goes even further than Reagan's — instead of barring funds from just two agencies (USAID and the U.S. State Department), it covers every agency, including those working to combat HIV/AIDS and promoting maternal and child nutrition. "This is not the global gag rule we know," a policy analyst with the Guttmacher Institute told the New Yorker. "This is a whole new policy."
2. Passed a bill to make the Hyde Amendment permanent law.
The day after Trump reinstated the Global Gag Rule, the House passed legislation banning the use of federal funds to pay for abortions, or to subsidize them via private insurance. The bill effectively makes the Hyde Amendment, which since 1976 has passed as a budget rider, permanent law — something Trump promised to do during his campaign. And as a previous Cut article notes, the Hyde Amendment disproportionately impacts low-income women and women of color who rely on Medicaid for insurance. Similar legislation passed the house in 2013 and 2015 before succumbing to a Democratic filibuster in the Senate, and odds are this bill will meet the same fate (that is, if the filibuster survives). But the bill serves as yet another sign that Republicans are dead set on restricting abortion.
3. Stripped U.S. funding from the United Nations Population Fund.
In April, the Trump administration announced it would strip all U.S. funding from the United Nations Population Fund (UNFPA), which provides family-planning and reproductive-health services to women and girls in more than 150 countries. The U.S. is the fund's fourth-largest donor, and thanks to the administration's decision, the UNFPA will lose $32.5 million from the 2017 budget. Trump's administration justified the choice by claiming the UNFPA violates the 1985 Kemp-Kasten Amendment, which says the U.S. can't give money to organizations that contribute to forced sterilization or abortions — a State Department memo said the UNFPA "partners with China's National Health and Family Planning Commission, responsible for overseeing China's 'two-child policy' — a loosened version of the notorious 'one-child policy' in place from 1979 to 2015." (The same memo added that there's "no evidence" of such a partnership.) When George W. Bush's administration did the same thing in 2002, a Guardian op-ed estimated it would result in 2 million unintended pregnancies and the deaths of 77,000 children.
4. Allowed states to block health-care providers that perform abortions from receiving Title X money.
After a bill repealing the Obama administration's final rule barely passed the Senate in March (Republicans Mike Pence and Johnny Isakson – who was literally wheeled onto the Senate floor – were called in to cast the deciding votes), President Trump signed it into law in mid-April. The law allows states to withhold Title X family-planning money from health-care providers that offer abortion. The Title X program provides close to 4 million low-income Americans with basic health and family-planning services — because of the Hyde amendment, no federal funds state clinics receive can go toward abortions.
The law is seen as an attack on Planned Parenthood, which said in a statement that it "could have far-reaching implications for people's access to health care through the Title X family-planning program across the board, and could embolden states to discriminate against family-planning health-care providers, both Planned Parenthood health centers and independent clinics."
This post will be updated as more information becomes available.