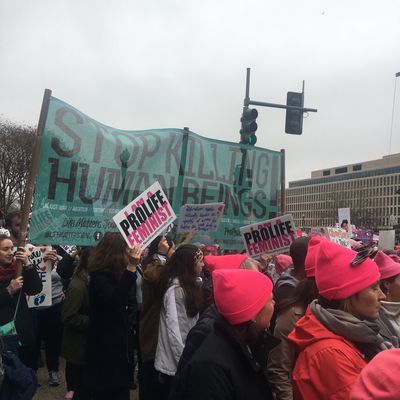 Anti-choice marchers.
Photo: Lisa Ryan
As hundreds of thousands of women and men began their trek down Independence Avenue during the Women's March on Washington on Saturday, a battle of opposing chants broke out among two smaller groups. When one began shouting the popular protest maxim "My body, my choice," another retorted (with the help of a megaphone), "Pro-choice, that's a lie. Babies never choose to die."
The latter group were marching with the New Wave Feminists, the Texas-based anti-choice group briefly listed as a partner on the march's website last week — creating a backlash among marchgoers — before organizers apologized for the error, removed the group from the site, and reiterated the march's pro-choice stance. Despite the controversy, supporters of the group opted to still attend the event, to represent what they say is their own form of anti-abortion feminism. They subsequently brandished a large teal banner reading "Stop killing human beings!" as well as smaller signs saying "I am a pro-life feminist" — while many of the march's other attendees carried signs in support of women's reproductive rights.

"The organizers of the march created a foundation for women to have their voices heard, and so we came as a pro-life contingent," Kate Bryan of Virginia, a supporter of the group, told the Cut. "People who believe that abortion is a violence against women, against their children. And so we're taking a stand for life."
Though a woman's right to choose has long been a major component of feminism, these marchers believe being a feminist actually means standing up against abortion. "You can be pro-life and you can be a feminist. A lot of people separate the two. Feminism is standing up for the best for women, and demanding that women get the best in our country," anti-choice marcher Annie Riley, of upstate New York, told the Cut. Part of that, she explained, is protecting women from what she and other anti-choice activists believe are the damaging psychological effects of getting an abortion (even though a recent study found that being denied an abortion is far more traumatic than having one).
Many of these women identify as religious, but surprisingly, a number of them also told the Cut that they don't think their religious beliefs have anything to do with their stance on abortion. Additionally, many (but not all) said that they support access to contraception, since they know it leads to reduced abortion rates. Kristina Beaugh, of Virginia, said that she works in public health and stressed that she thinks birth control "should be free" to help prevent abortions. "I would love to run for Congress one day to open up health-care access one day to all women — in rural areas, in urban areas — because it's very important, and access to contraception is very important to prevent these unborn babies from being killed every day," Beaugh said.
The Cut also spoke to two other anti-choice marchers, each of whom were carrying signs that read, "I am the pro-life generation." They weren't marching with New Wave Feminists or any other organization, but said they felt the urge to attend the rally for similar reasons. "We wanted to show that you can be pro-women and pro- pretty much everything that's being represented at this march, and also pro-life," Katherine Hamlet, of New Jersey, told the Cut.
Despite the overwhelmingly pro-choice atmosphere at the march, Hamlet told the Cut she felt welcome. "I'm in a minority, and before we came to the march [we worried we wouldn't be welcome]," she said, referring to the news about New Wave's partnership status. "But since we've been here everyone has been respectful and kind."