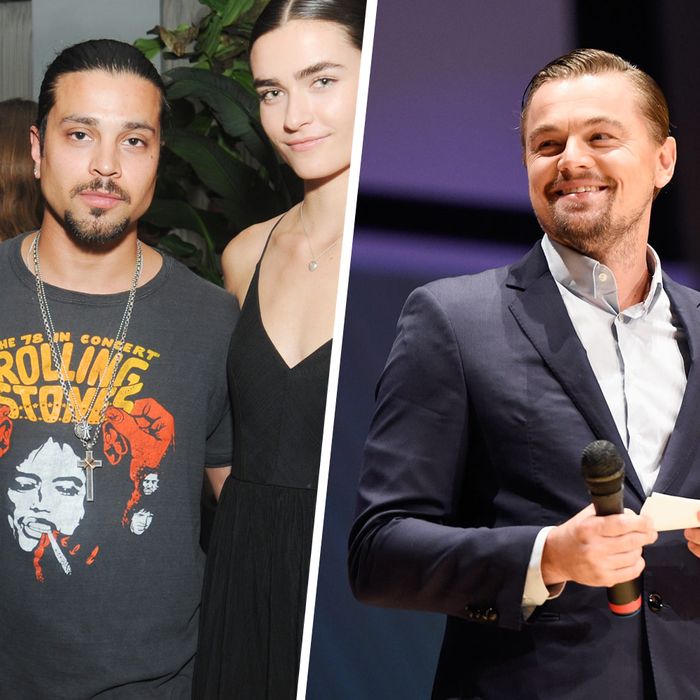 Andrei Gillott, Leonardo DiCaprio.
Photo: BFA; Getty
The Pussy Posse has seen so very much since its inception: models, booze, Leonardo DiCaprio's foray into environmentalism, Adrian Grenier's foray into environmentalism, a rebranding, a Tobey Maguire divorce. Amidst all this change, one thing's always been assumed to be true — that Leo is in charge. But "Page Six" reports beg to differ: There was the one a few months ago saying it was Maguire who in fact led the pack, while a new one claims that it's actually promoter Andrei Gillott:
"[Gillott] is the real king of the p—y posse," one source told me. "He gets the girls' numbers. He makes the introductions. He handles all the arrangements."

Gillott, who resembles Wilmer Valderrama, wrangled Bridget Satterlee, Misha Rosenberg, Greice Santo, Mabelynn Capeluj and Alissa Violet to a movie night at DiCaprio's house on Dec. 20. I'm told they watched "Captain Fantastic" and Ben Affleck's "Live by Night."
Captain Fantastic! Excellent choice.
"This guy has the greatest job ever," the source told "Page Six," leaving out the part of Gillott's job that presumably involves him starting email chains to plan nights out that only devolve into Adrian Grenier replying-all with his GoFundMe page to save the whales.