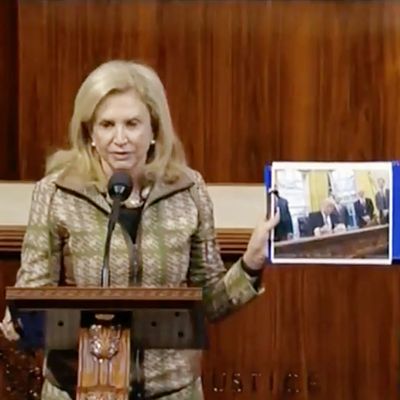 Rep. Carolyn B. Maloney addresses the House of Representatives.
Photo: Courtesy of C-SPAN
When Donald Trump signed an executive order banning federal funding for international nongovernment organizations that offer abortions, eagle-eyed observers noticed that something seemed a little off. What is it exactly? I can't quite put my finger on it …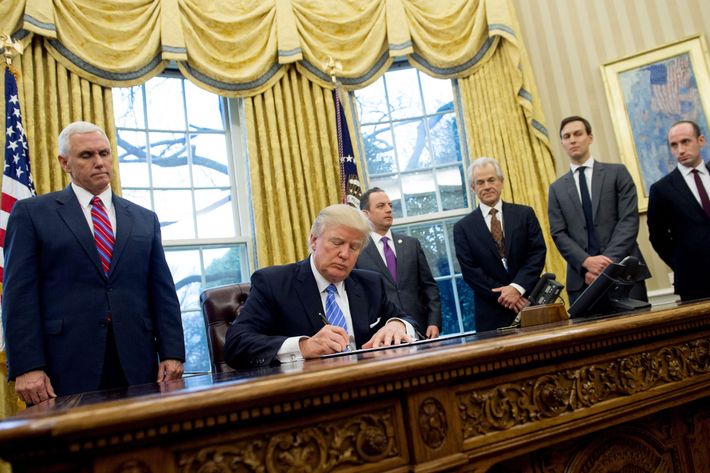 New York Democrat Carolyn B. Maloney noticed something was off too, and she pointed it out in a speech to the House of Representatives on Tuesday.
"Look at this picture," she said, holding it up for her colleagues to see. "Where are the women?" Then, just in case they'd missed the point, she added, "Yesterday, the president signed an executive order affecting and restricting health care for millions of women across the world while no woman was present."
Weirdly, this is the second time Maloney has asked the exact same question. In 2012, she made headlines for posing it to an all-male panel convened to discuss the Obama administration's regulation requiring health insurance companies to cover contraception. "When I look at this panel, I don't see one single woman representing the tens of millions of women across the country who want and need insurance coverage for basic, preventative health care services," she said at the time. "Where are the women?"
Third time's a charm?