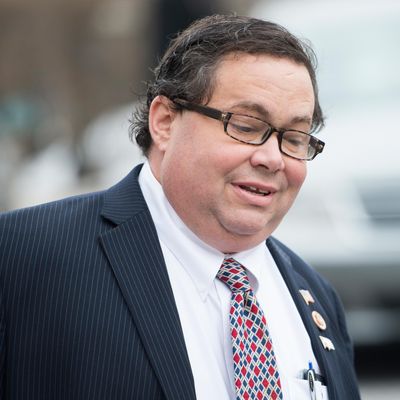 Texas representative Blake Farenthold was instrumental in gutting the Office of Congressional Ethics.
Photo: Bill Clark/CQ-Roll Call
On Monday, news broke that House Republicans voted privately to gut an independent ethics office that was established to hold members accountable for things like bribery, fraud, and conflicts of interest. They approved a measure that would put the Office of Congressional Ethics — a six-person board of private citizens — under the control of the House Ethics Committee, which is made up of sitting members of the House of Representatives.
According to Politico, the change was proposed by several members of Congress who felt they'd been wrongfully accused by the OCE. One of those was Texas representative Blake Farenthold, who was accused by a former staffer of sexual harassment in 2014. The staffer alleged that Farenthold made comments about having "wet dreams" and sexual fantasies about her with the knowledge that she'd hear about his remarks. "On one specific occasion, Farenthold told Greene that she had something on her skirt and that he hoped his comment wouldn't be taken for sexual harassment," the complaint read. "A reasonable person would infer that Farenthold was joking that she had semen on her skirt."
The staffer said she was fired after she complained about such treatment. Her lawsuit was eventually thrown out, but Farenthold reportedly "did not like the way the case was handled" by the OCE.
The lawsuit wasn't the first time Farenthold had come under fire for his behavior; in 2010 his political opponent seized on a photo of the representative posing in pajamas next to a woman in lingerie. And just before the lawsuit was filed, it was discovered that he'd registered the domain name blow-me.org when he owned a computer consulting business in the '90s.
Watchdog groups and House Democrats were quick to criticize the move to gut the OCE. "If the 115th Congress begins with rules amendments undermining OCE, it is setting itself up to be dogged by scandals and ethics issues for years and is returning the House to dark days when ethics violations were rampant and far too often tolerated," Citizens for Responsibility and Ethics in Washington said in a statement. Senator Elizabeth Warren was even more explicit, tweeting, "Tell us: Who, exactly, thinks that the problem with Washington is that we have too many rules requiring the gov to act ethically?"