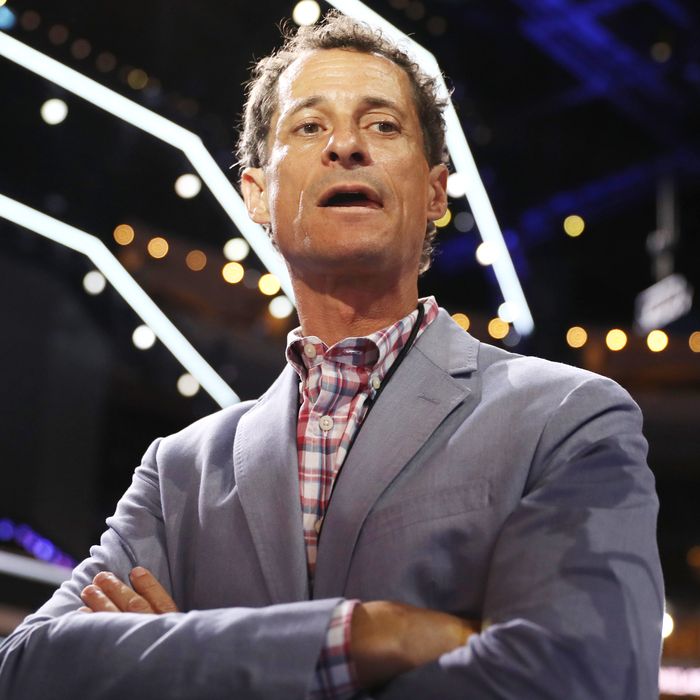 Anthony Weiner could be facing up to 15 years in prison.
Photo: Joe Raedle/Getty Images
Anthony Weiner, who was seen riding horses through a peaceful wood at sex rehab, could face serious prison time for his online relationship with a 15-year-old girl. According to The Wall Street Journal, federal prosecutors are weighing whether to bring child-pornography charges against the former congressman, the most serious of which carries a 15-year mandatory-minimum prison sentence.
Officials began the investigation into Weiner last fall after the Daily Mail U.K. printed photos of some of the conversations between Weiner and the girl, who was unnamed because she's a minor. Weiner's attorneys have reportedly met with prosecutors in recent weeks to discuss the charges, which could range from production of child pornography (a 15-year minimum sentence) to receipt of child pornography (a five-year minimum sentence) to possession of child pornography (which carries no minimum sentence) to no charges at all.
WSJ added that in child-pornography cases prosecutors often take context into account, such as "whether a person specifically sought out a minor, whether the incident fits a pattern of similar behavior with minors and whether the person knew the individual was a minor." And it's still unclear what type of images prosecutors discovered on Weiner's various devices, which could also influence charges.
Incidentally, the ex-politician is also facing a $65,000 fine for campaign-finance violations. But other than that, he's doing fine.