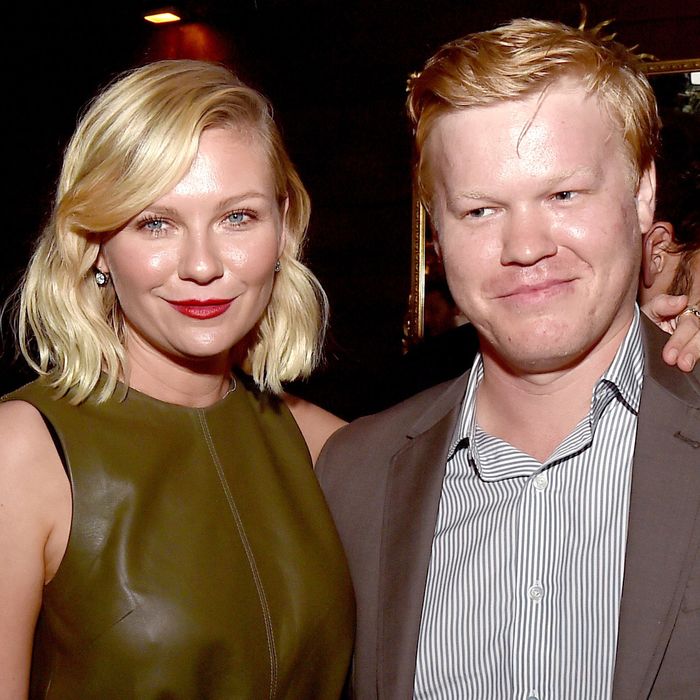 Kirsten Dunst and Jesse Plemons.
Photo: Kevin Winter/Getty Images
Kirsten Dunst did not attend the Golden Globes this past weekend, but she did get engaged to her Fargo co-star Jesse Plemons, according to "Page Six." The gossip outlet reports that Plemons, best known for playing Landry on Friday Night Lights, and Dunst, best known for being Kiki Dunst, locked it down while everyone else was distracted by the awards show.
Dunst and Plemons first came out as a couple last May, when paparazzi caught them making out behind a fence. This was a few months after Dunst broke up with her long-term partner Garrett Hedlund. Dunst hinted to InStyle UK last year that she planned to marry Hedlund, but that did not happen. "'I am someone who wants to get married," she told the magazine. "If it happens in my mid-to-late 30s, it's going to be intimate. Courthouse, dinner party and DJ with friends and family. I'll treat it like it would be my 40th birthday."
Dunst, incidentally, is 34, and Plemons is 28. They were both born in the month of April, but Dunst is a Taurus and Plemons is an Aries. Both parties have so far declined to comment on this exciting and probably a little bit overwhelming time in their lives.