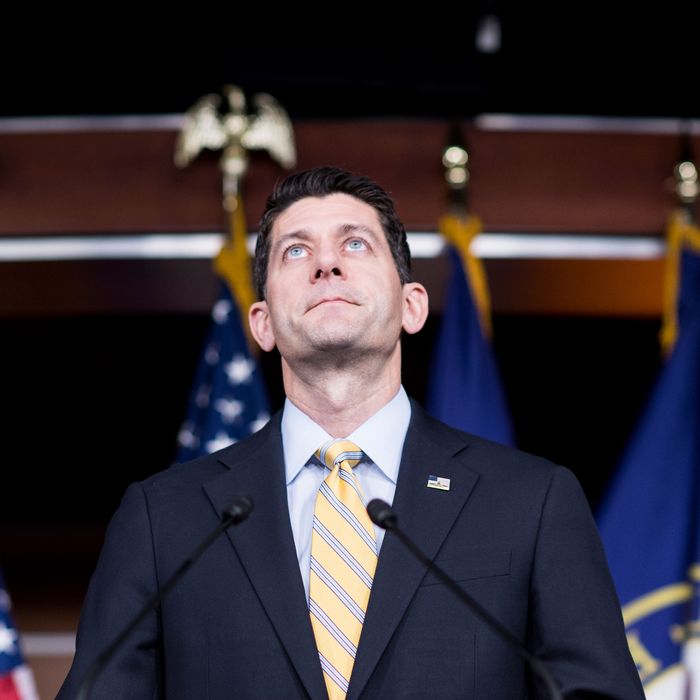 Paul Ryan.
Photo: Bill Clark/Getty Images
After Donald Trump's election, officials at Planned Parenthood braced themselves for "a fight of a scale that we haven't seen before," and they're about to get one. On Thursday, House Speaker Paul Ryan confirmed at a news conference that Republicans plan to strip Planned Parenthood of federal funding as part of their bill to repeal the Affordable Care Act. His exact words were: "Planned Parenthood legislation will be in our reconciliation bill"; he did not elaborate.
Because it's part of the reconciliation process, senators won't be able to filibuster the bill, and it won't need the typical 60-vote majority to pass. When Republicans introduced a reconciliation bill in 2015 that repealed major parts of Obamacare and defunded Planned Parenthood, it passed both houses of Congress and was vetoed by President Obama. This time around, Trump is expected to sign the bill, which he could do as early as next month.
According to the Washington Post, Planned Parenthood expects to lose 40 percent of its funding if the bill becomes law. In a press release, Planned Parenthood president Cecile Richards spoke out against the measure.
"Two and a half million women, men and young people come through our doors every year for lifesaving care like cancer screenings, birth control, and STI and STD tests," she said, "and they cannot afford to have basic reproductive health care attacked."
The legislature in Texas made a similar move last month, officially kicking Planned Parenthood out of the state's Medicaid program. Planned Parenthood and several unnamed co-plaintiffs filed a lawsuit to allow the organization to continue to access Medicaid funds, and it's likely the legal battle in that state will be ongoing. In the lawsuit, Planned Parenthood called the move a "politically motivated witch hunt."