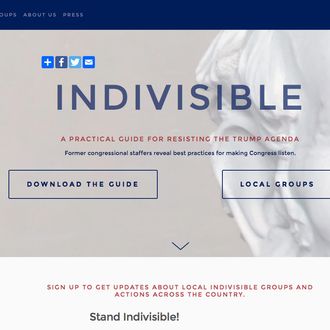 After this week of unceasing chaos, many have been wondering how best to use their energy in responding to Trump's agenda. While record donations to the ACLU have been one of the most positive outcomes of Trump's executive orders over the weekend, grassroots activists advise angry citizens not to stop there. The Indivisible Guide wants to become your resource for long-lasting congressional advocacy.
The Indivisible Guide began as a Google Doc after Trump's election, and since December, it has been downloaded over a million times. Knowing the limits of a publicly shared Google Doc, the organizers (all former congressional staffers) decided to launch a fully designed, easy-to-parse website with everything you could possibly need to know about resisting the Trump agenda.
The volunteer organizers of the Indivisible Guide have two objectives: "to demystify congressional advocacy" and to "support the community of local groups putting the Indivisible Guide into action." There is a tool kit for new group organizers, a calendar for daily national events and calls to action, and the guide itself, which details how to properly get your congressional members to work for you.
Looking for a local grassroots organization to join and begin advocating for your rights and the rights of others? The Indivisible Guide has a database of groups who "agree to resist Trump's agenda, focus on local, defensive congressional advocacy, and embrace progressive values." Happy resisting.