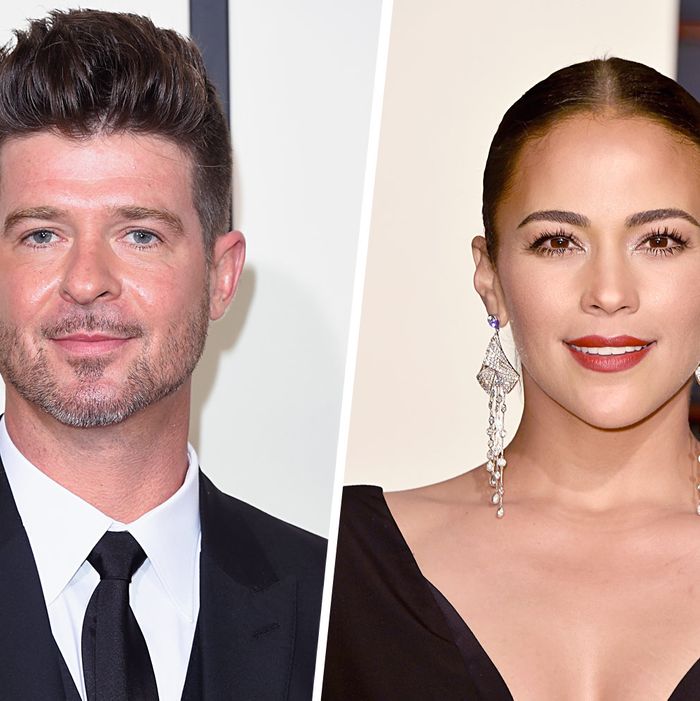 Robin Thicke and Paula Patton.
Photo: Getty Images
Last year, the Los Angeles Department of Child and Family Services investigated Brad Pitt for child abuse after a reportedly tense incident on his family's private plane. The DCFS eventually closed that investigation without filing any charges. Now, the department is investigating another celebrity: Robin Thicke. Us Weekly reports that the DCFS opened a child-abuse investigation last week, after Thicke's 6-year-old son Julian told officials at his school that Thicke "spanked him more than once."
The unnamed school officials reported Julian's complaints to the DCFS on January 3, according to court documents obtained by Us Weekly. The DCFS reportedly interviewed Thicke about the situation on Thursday. Thicke's ex-wife Paula Patton filed an emergency order with a judge the same day, asking that Thicke's time with Julian be limited to "monitored daytime visits only." According to CBS News, the judge denied the order.
CBS News reports that Patton claimed in court documents that she was concerned about Thicke's alleged spanking and his "drinking and drug use."
Neither party has commented publicly about the case. In the documents obtained by Us Weekly, Thicke denies any wrongdoing. "On a very rare occasion and only as a last resort, I will use light spanking, but it is consistent with the law — open hand on the butt," he said. "This is the type of discipline to which Paula and I agreed during our marriage."
Thicke also claims in the documents that Patton "holds residual anger" toward him because he barred her from attending his father Alan Thicke's funeral last month. "Paula did not have a positive relationship with my father," he said. "As such, she was not welcome at his funeral. It is my belief that Paula only wanted to attend because it would have resulted in additional public exposure for her."
Thicke and Patton split in 2014, after almost nine years of marriage. Their divorce was finalized in 2015. Thicke is currently dating 21-year-old bikini model April Love Geary.