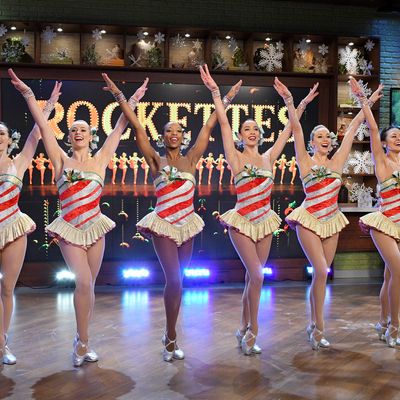 The Rockettes appear on ABC's "The Chew."
Photo: Lorenzo Bevilaqua/ABC via Getty Images
When an adviser to Donald Trump announced that the Rockettes, who are best known for their Radio City Music Hall Christmas Spectacular, would perform at the president-elect's inauguration, there was instant backlash from dancers, many of whom said they hadn't been told of the decision. Both the Madison Square Garden Company and the union that represents the Rockettes later clarified that the performance was optional, but one dancer called it a "women's rights issue" and said many dancers are concerned they'll be let go if they opt out.
According to Marie Claire, Madison Square Garden executive chairman James Dolan met privately with dancers to discuss the performance and assuage their fears. Dolan reportedly addressed the idea of tolerance, saying, "I find it a little ironic—I get all of these emails, too, from people saying, 'Don't perform for this hateful person.' And then they proceed to spew out this diatribe of hate."
"I mean, it just sounds like you're asking us to be tolerant of intolerance," one dancer said in response.
"Yeah, in a way, I guess we are doing that," Dolan replied. "What other choices do we have? What else would you suggest?"
Dolan was adamant that the Rockettes' performance at the inauguration did not mean they were politically aligned with Trump, and he added that he doesn't think the performance will hurt the Rockettes brand. "A good portion of people voted for this person," he said. "Hopefully they will like our brand. If 1 percent of 1 percent of them come to our show, we're going to do great."
Update [1/3 at 3:00 p.m.]: Following the publican of Marie Claire's story, the chief communications officer for the Madison Square Garden Company released this statement:
This is one person who continues to attempt to represent the entire team of Rockettes. This time it's in a story that is the result of an unauthorized recording that violated the confidentiality of all of her sister Rockettes. While Mr. Dolan stands behind everything he said during the meeting, no one in that room believed they were speaking publicly. Everyone in the meeting had the chance to speak their mind in a safe setting, and many did. Her secret recording was deceitful and cowardly and has betrayed all of her fellow Rockettes. Posting this story is beneath the ethical standards of Hearst. We are deeply disappointed in their decision to post this story.