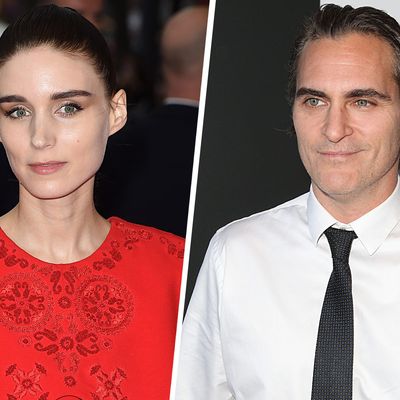 Rooney Mara and Joaquin Phoenix.
Photo: Getty Images
Romance is an unpredictable beast. Will it bloom in the grocery store checkout line? At the gym? Or, perhaps, on a Biblical movie set and then at a spa that specializes in colonics?
If you are Rooney Mara and Joaquin Phoenix, then the answer to the last one is reportedly: yes, yes, a thousand times yes.
"Page Six" alleges that the actors first fell for each other on the set of the upcoming Mary Magdalene, a movie in which Mara plays the titular character and Phoenix plays the big guy, Jesus Christ. (Spoiler: This does not happen in the Bible and probably not in the movie.)
Mara has been with director Charlie McDowell since 2010, but "Page Six" points out that they haven't been photographed together in several months. Meanwhile, Phoenix's rep dismissed the rumors and said that the two "are and have been good friends for quite a long time."
Which brings us to the We Care spa — the hottest club for colonics and juice fasting in Desert Hot Springs, California — where Mara and Phoenix have reportedly been "holed up." The homepage of We Care features prominent testimonials from stars such as Lisa Rinna, Stockard Channing, and Josh Radnor.
"They are there continuing to 'find love,' but also some health, as he is doing his annual pilgrimage to the spa," a source told "Page Six." "Joaquin and his lady love are down for some R&R, sipping juices and a few colonics … good times!"
There's only one way to learn if this romantic colonic getaway is the real deal or just two old pals getting side-by-side colonics: disguise myself as a giant rose-quartz crystal and sneak into We Care to find out once and for all.