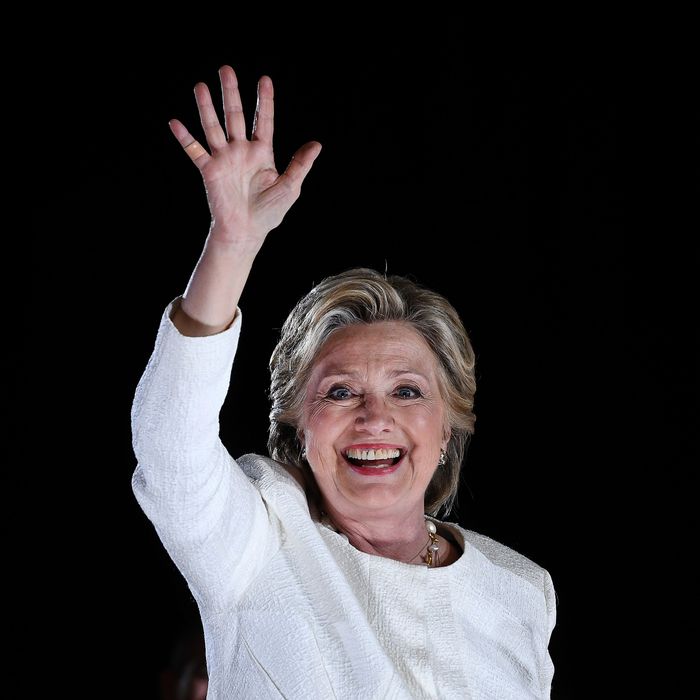 Photo: Jewel Samad/AFP/Getty Images
Is Hillary Clinton going to run against Mayor Bill de Blasio in New York City's 2017 election, or is it just wishful thinking? Reports are surfacing that HRC could run, that fellow Democrats and supporters are hoping she will or are even asking her to run, but that it's unlikely.
NewsMax, a conservative website, reported that powerful Dems are trying to convince HRC to run against de Blasio. (It is perhaps worth noting, as per the New York Times, that the owner of NewsMax is a "friend and donor" to the Clintons and even went to Africa with Bill Clinton as part of a Clinton Foundation excursion.) A source told NewsMax, "She's talking about it." Well, who wouldn't dream of becoming the mayor of the city where her nemesis resides? Even after Trump moves into the White House, part of his family will remain in NYC, as will a Secret Service presence and ensuing traffic and safety snarls.
Meanwhile, another source told the New York Daily News that she "left open the possibility of running for mayor of New York City this year in a private conversation with a top Democrat."
"Clinton, who is being pressed by many New York Dems to get back into the game by running for mayor, did not rule out challenging current City Hall occupant Mayor de Blasio in that conversation, the source said."
De Blasio's popularity has waned in the years since he's taken office, so even insiders and pundits that doubt the likelihood of a run think she'd win big.
A Twitter account called HRCforNYC popped up yesterday, and the bio reads in part "Unofficial (for now)."