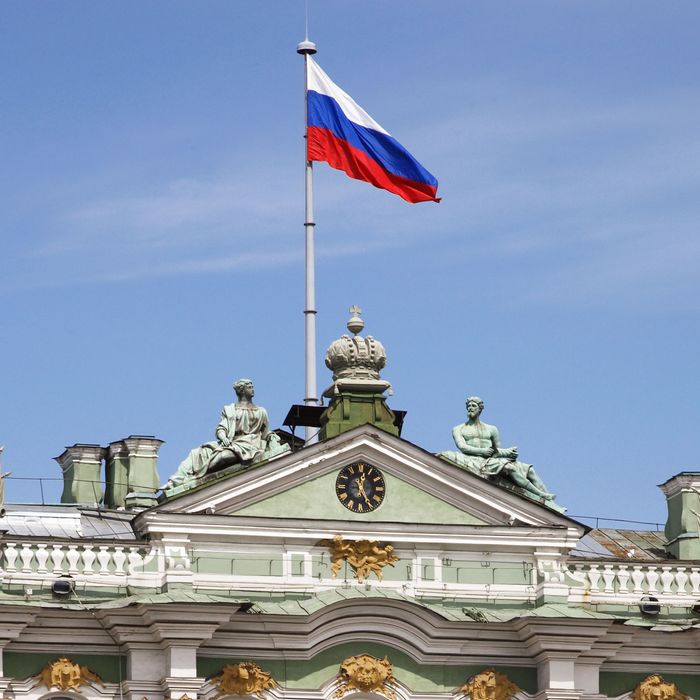 The winter palace in St. Petersburg, Russia.
Photo: Dallas and John Heaton/Getty Images
A bill introduced by an ultra-conservative Russian lawmaker in August that decriminalizes domestic violence just passed its first reading in Russian parliament, according to the Moscow Times. Only one member of parliament voted against the bill, while 368 voted in favor of it. If the bill passes, it would remove the charge of "battery within families" from Russia's criminal code, meaning it would be categorized as an administrative offense, and victims could not press criminal charges.
"In Russian traditional family culture parent-child relationships are built on the authority of the parents' power," said MP Yelena Mizulina, who introduced the bill. "The laws should support that family tradition."
But according to Russian government statistics, 40 percent of violent crimes are committed within families, the Guardian reports. Statistics also indicate that some 36,000 women are assaulted by their partners every day, and one Russian nonprofit that helps victims of domestic violence suggested more than 14,000 women die as a result of domestic abuse every year.
Mizulina, who's best known for the law that bans "gay propaganda" (read: makes it illegal to equate same-sex and heterosexual relationships and bans distribution of material on LGBTQ rights), introduced the bill in response to a recent amendment to Russia's criminal code that made domestic abuse a criminal offense to be investigated and persecuted by the state. Per the Guardian, all attempts to pass a domestic-violence law in Russia in the past ten years have been unsuccessful.