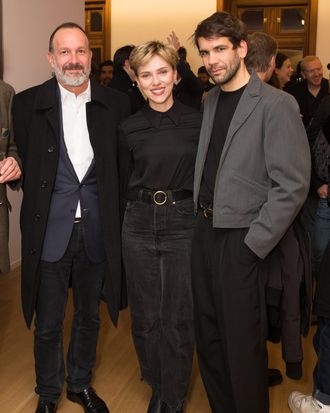 Scarlett Johansson and Romain Dauriac.
Photo: Rob Berry/BFA.com
Yesterday, People reported that Scarlett Johansson had split with her French husband of two years, Romain Dauriac. According to People's source, Johansson and Dauriac separated last summer, even though they went on to launch a gourmet Parisian popcorn company (?) in the fall. Now it seems that Johansson wants everyone to know that the divorce will not be dramatic, and that Yummy Pop will, indeed, survive. Last night, she attended an art opening with Dauriac in New York City; both exes wore interesting pants and smiled for several photographs.
Despite this presentation of a "united front," sources connected to Johansson and Dauriac are starting to snipe at each other in the tabloids. In today's Us Weekly report, a source claimed, "Scarlett initiated splitting up and made the decision. She felt like they didn't have much in common as far as lifestyle." (There have been rumors that Johansson never learned French, even though she spent much of her time with Dauriac in Paris.)
To People, a "source in Dauriac's circle" responded with this very French remark: "I've been expecting this for some time. Romain and Scarlett has never made sense to me. They aren't equals. There's always been something wrong with this picture."
So this might not be the conscious uncoupling Johansson wants you to think it is. What's more, Johansson has reportedly hired the big guns: celebrity divorce attorney Laura Wasser. Wasser recently represented Johnny Depp in his messy, protracted divorce from Amber Heard, and she is also representing Angelina Jolie in her equally dramatic split from Brad Pitt. And oh, Us Weekly notes, she represented Ryan Reynolds when he divorced Johansson in 2011. It looks like Johansson is ready to win this one!