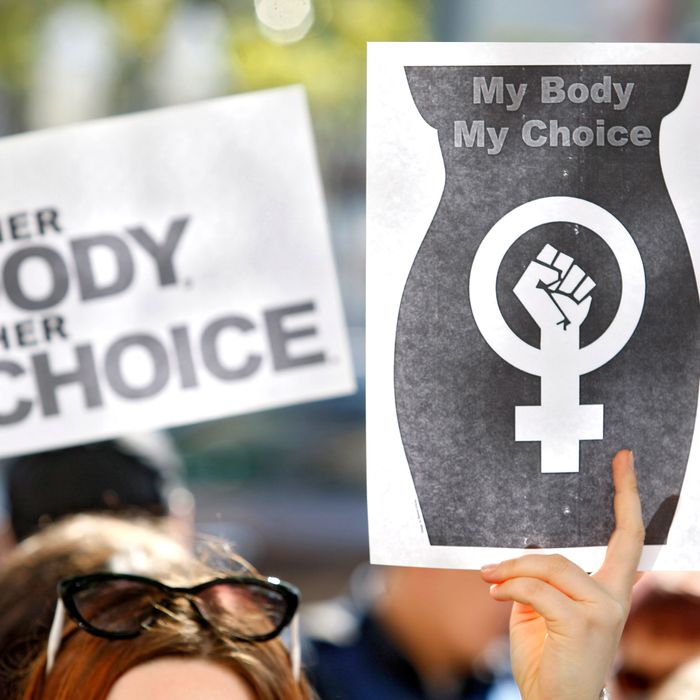 Photo: NurPhoto via Getty Images
With a Trump presidency looming large (only nine days and counting), fears that the Affordable Care Act will be repealed continue to grow. Though several GOP senators have said they oppose repealing Obamacare without first instituting a comprehensive plan to replace it, Trump reiterated on Tuesday that "Obamacare is a disaster" and that he hopes to repeal it "some time this week." So what does that mean for access to free birth control? New York State, for starters, has a plan.
One of the defining tenets of the Affordable Care Act is free access to every FDA-approved method of birth control that can be prescribed by a health-care provider. With the ACA on the chopping block, it's possible that a Republican Congress could stop birth-control access from being available through Medicaid plans, and in attempting to defund Planned Parenthood, Trump could also take out a huge resource for millions of low-income women with no alternate access to affordable health-care services. When asked on CNN if free birth control would be one of the things to go in the attempt to repeal Obamacare, House Speaker Paul Ryan said, "Look, I'm not going to get into all the nitty-gritty details of these things."
In New York State, considerable measures are being taken to guarantee that, no matter what happens with the ACA, access to free birth control is not taken away. On Wednesday, it was announced that New York attorney general Eric T. Schneiderman had introduced legislation that would not only protect, but enhance New Yorkers' access to free contraception.
The legislation introduced is called "The Comprehensive Contraception Coverage Act of 2017," and it will both protect women's right to free birth control and expand the program to include male contraception. "New Yorkers have a right to comprehensive, cost-free access to birth control," Schneiderman said in a statement, "The Comprehensive Contraception Coverage Act will ensure that all New Yorkers have access to the birth control method they need to stay healthy and effectively plan for their future — no matter what happens in Congress."
The bill aims to codify in New York law the following, per the attorney general's release:
First, the bill would statutorily require state-governed health insurance policies to provide cost-free coverage for all FDA-approved methods of birth control, including emergency contraception.

Second, the legislation would prohibit insurance companies from "medical management" review restrictions that can limit or delay contraceptive coverage.

Third, the CCCA would cover men's contraceptive methods and bring their insurance coverage in line with the benefits enjoyed by women.

Fourth, the bill would allow for the provision of a year's worth of a contraceptive at a time.
The legislation already has the support of a number of members of the New York State assembly, and with any luck, will gain the approval of Governor Cuomo, who has expressed support of Planned Parenthood and the ACA. In the event of an ACA repeal, an estimated 2.7 million New Yorkers would lose health-care coverage.