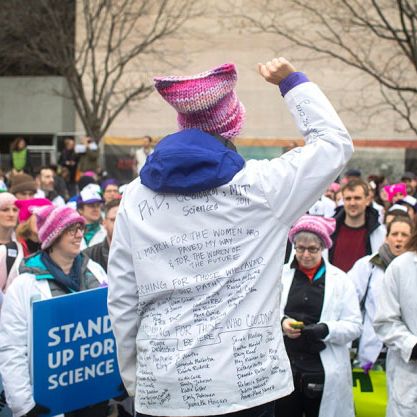 Photo: Cassi Alexandra for Nature
The idea, as so many do these days, began on social media. This week, scientists across the country have been quietly and not-so-quietly freaking out over the Trump administration's approach to science, particularly climate-change policies and what may lie ahead for science communication and research funding. (There are so many things to freak out about, but these seem to be taking priority just now.) Then, in the middle of a long thread on Reddit, someone suggested: "There needs to be a Scientists' March on Washington."
That was four days ago. Since then, the newly created Twitter handle @ScienceMarchonDC has gained more than 20,000 followers, and a (now-private) Facebook group has more than 100,000 members. There's also a website, which lays out the primary themes for the still-in-the-works march. Those who are planning the event "accept the following as provisionally true":
• The Earth is becoming warmer due to human action.

• The diversity of life arose by evolution.

• An American government that ignores science to pursue ideological agendas threatens not only the environment of which humans are a part, but America itself.

• Scientific research in the United States is underfunded.

• Politicians who devalue expertise risk making decisions that do not reflect reality.
The Washington Post reports that the march has two co-chairs — Jonathan Berman, a postdoctoral fellow at University of Texas Health Science Center, and Caroline Weinberg, a science writer living in New York — who will meet online with others this weekend to plan the whens, the wheres, and the hows. Maybe it would be best to join together with another march already in the works; maybe they should consider changing the name to something like a "March for Science," so it's made clear that nonscientists are welcome, too. (The name of the Facebook group, at least, is now "March for Science.") "The best update I can give you now: it will happen," Berman said in a Facebook post this morning. "That wasn't necessarily the case on Monday and we have you to thank for that."
The details are still to come. For now, it's going to be exciting to watch it come together. (A possible lab-coat dress code!)