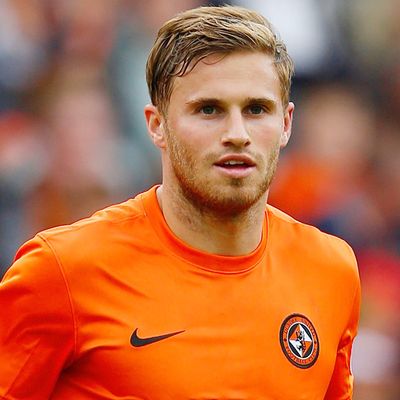 David Goodwillie and David Robertson.
Photo: Getty Images
Scottish professional soccer players David Robertson and David Goodwillie have been ordered to pay £100,000 to a woman, after a U.K. judge found the two men raped her while she was "vulnerable through an excessive intake of alcohol," The Guardian reports.
The ruling came after a civil trial in Edinburgh, as criminal charges against Goodwillie over the January 2011 attack were dropped in July that year. The men were previously teammates on Dundee United, though Goodwillie now plays for Plymouth Argyle and Robertson plays for the Scottish League's Cowdenbeath. Goodwillie won't be playing for Plymouth until the team has "considered the full report," the club said in a statement.
The rape of Denise Clair — who waived her right to anonymity — reportedly occurred on January 2, 2011, at a property in West Lothian, Scotland, after a night out when she was 24 years old. Goodwillie was accused of serious sexual assault, but the charge was dropped, while police questioned Robertson in connection with the incident. Clair had sought £500,000 in compensation, but agreed to damages of £100,000 in the civil proceeding.
Per The Guardian:
In his judgment, Lord Armstrong said: "Having carefully examined and scrutinized the whole evidence in the case, I find the evidence for the pursuer to be cogent, persuasive and compelling.