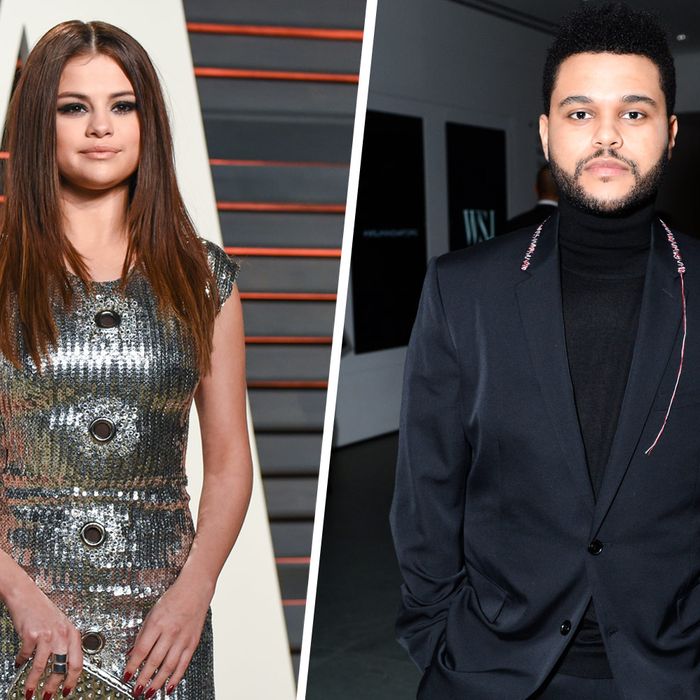 Selena Gomez and The Weeknd.
Photo: BFA
Selena Gomez and the Weeknd: One minute they're making out behind a dumpster for the paparazzi, the next minute they're holding hands walking out of a Dave & Buster's for the paparazzi. E! News has exclusive photos of the buzzy, dramatic new couple "showing some sweet PDA" last night after a trip to the arcade with friends including French Montana, Jaden Smith, and the Khadra twins. Some guests Instagrammed from the party, but so far no one has posted any photos of Gomez and the Weeknd together.
E! News, of course, has an inside source who commented on the new couple's behavior at D&B. "Selena looked so happy and Abel was very chill, very relaxed," the source said. "They held hands as they left and it was very warm, you can tell they are really enjoying each other's company …[Selena] seems very at ease with him and you can still see the stars in her eyes. They are clearly smitten!"
The gossip site also spoke to a (very real) insider on the more general state of the relationship. "He really likes her. They text every day," this source said. "They have a really sexy and flirty relationship. They laugh and like each other's personalities."
So everything is going just great.