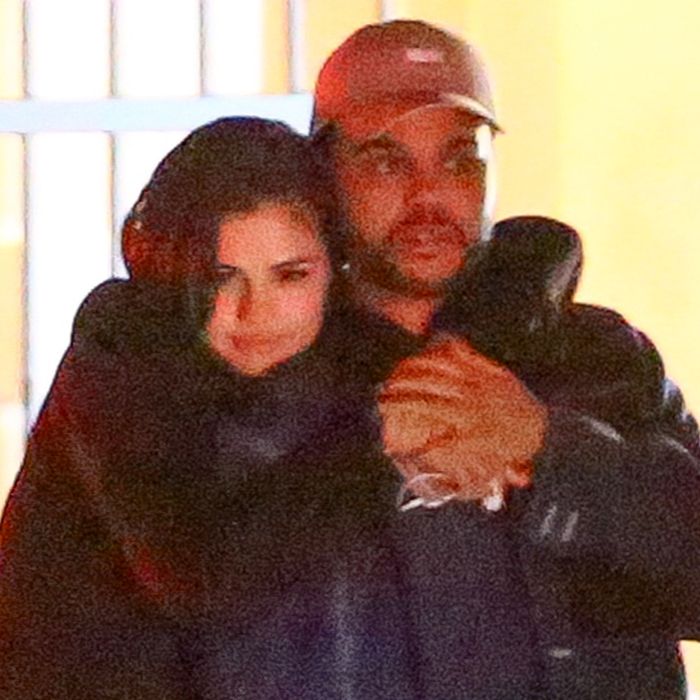 The Weeknd and Selena Gomez, new couple.
Photo: RMCL/Maciel/AKM-GSI
If you are looking for a distraction from the coming apocalypse, Selena Gomez just provided one in the form of 46 photos of herself making out with the Weeknd. TMZ published the full gallery of paparazzi shots this afternoon, which show Gomez and the Weeknd caught in a romantic embrace behind a dumpster outside Giorgio Baldi in Los Angeles. In many of the shots, Gomez appears to be posing and smirking for the camera. She has learned so much about paparazzi manipulation from her best friend, Taylor Swift.
The Gomez-Weeknd pairing is surprising, or maybe not that surprising, because both singers have dated each other's friends. Gomez, of course, had an on-again, off-again relationship with Weeknd-collaborator Justin Bieber. The Weeknd recently broke up with Bella Hadid, the sister of Gomez's friend Gigi. Stay tuned for some passive-aggressive Instagramming from one or more involved parties. In the meantime, you can enjoy all 46 of the perfectly executed photos here.
Update, 1:26 p.m.: People has now published an eyewitness account of Gomez and the Weeknd's behavior inside Giorgio Baldi. "It was a romantic dinner date in the rain," a source told the tabloid. "They acted like a couple. They ordered pasta and shared the food. She seemed very into him — she was smiling a lot. They left holding hands."
Us Weekly, meanwhile, has information about what happened after the dinner date. "They came out and they were so happy," a source said. "They were hugging and kissing. … Selena was all over him, hugging, kissing [him]. She looked amazing and so incredibly happy and in love." According to this source, Gomez and the Weeknd retired to Gomez's Los Angeles home.