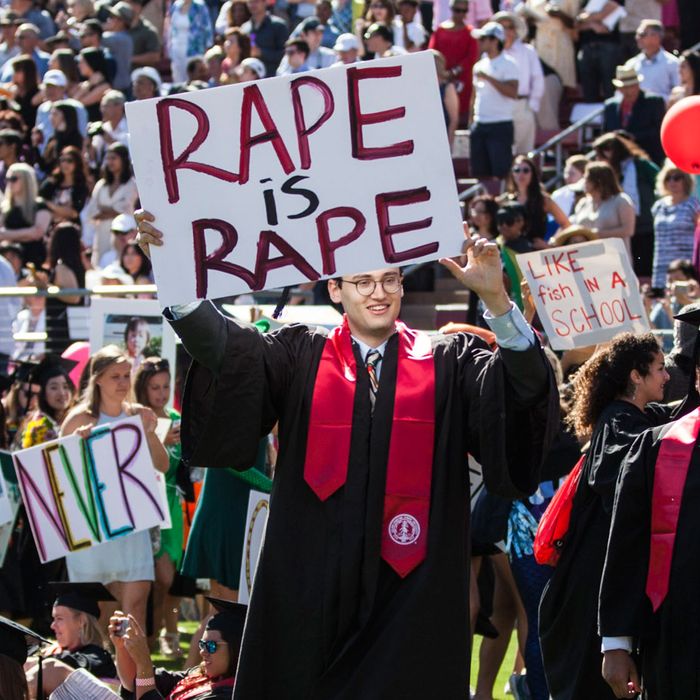 A student at Stanford University.
Photo: Ramin Talaie/Getty Images
Shortly after a Republican lawmaker recommended that President-elect Donald Trump roll back federal campus-sexual-assault guidelines, two Democratic senators sent a letter to Trump on Thursday urging him to keep the rules in place, BuzzFeed News reports.
In a letter obtained by BuzzFeed, Democratic senators Patty Murray and Bob Casey asked Trump not to rescind a 2011 Dear Colleague letter that was issued by the Department of Education, which clarified how schools must respond to sexual violence under the Title IX gender-equality law. Yet, in December, Republican representative Mark Meadows included the letter in a report on regulations he wants to see repealed or changed during Trump's first 100 days. According to USA Today, Meadows believes the campus-sexual-assault guidelines are "one-size fits all" and "deny the often-innocent accused basic due process rights."
Casey and Murray pointed out in their letter that the Education Department laid out "preponderance of evidence" standards for campus-sexual-assault investigations. Under the standard, school officials have to decide if they're more than 50 percent certain of someone's guilt. That standard is lower than the "beyond a reasonable doubt" standard used in criminal court, but still "well established" for civil-rights violations and civil-court proceedings.
"Campus sexual assault is a widespread problem affecting millions of college students across the nation, and institutions of higher education have struggled to respond even with the best of intentions," they wrote.
Both Murray and Casey are on the Senate HELP committee, which is holding a confirmation hearing on January 11 for Trump's nominee for Education secretary, Betsy DeVos.