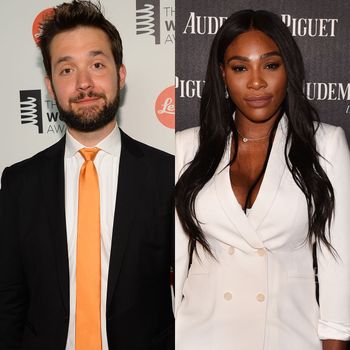 The happy couple.
Photo: Theo Wargo/Bryan Bedder/Getty Images
After surprising the world last week with news of her engagement to Alexis Ohanian, the co-founder of Reddit, Serena Williams has been teasing her fans about what her engagement ring looks like without actually revealing, well, what it looks like. Now, though, we have the first real photo of Williams's engagement ring. Let us say that everything about her post is completely on-brand and on-message. Let's take a look: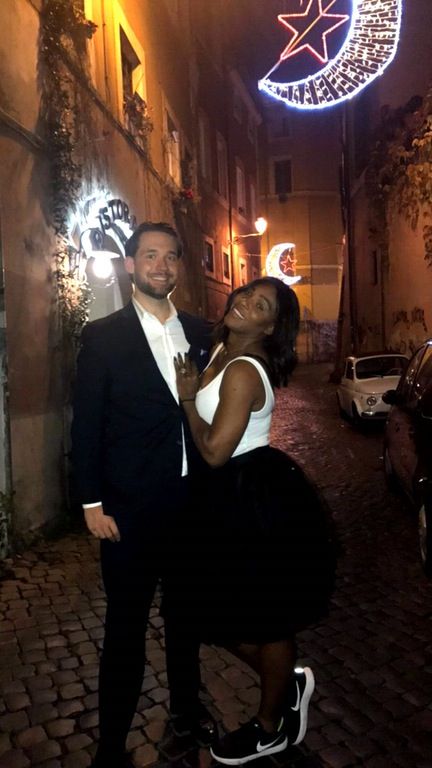 On Thursday night, Williams shared a photo of herself and Ohanian on none other than Reddit, which might become the platform of choice for her. You know, since Ohanian co-founded the company and all, that's where the couple announced their engagement in the first place (also, can you blame her?). In posting to Reddit, Williams is undoubtedly promoting her beau's site while also releasing details of her relationship on her terms.
Before this photo, Williams kept her engagement ring out of the public and teased her fans about what it might look like. In lieu of the (now) traditional engagement-ring photo close-ups that most celebrities share on Instagram, Williams opted instead to share a stock photo of a ring made up of a mini-plastic-taco figurine sitting atop a band. When she ventured out in New Zealand with Ohanian and the press was around, she turned her ring inward, only showing a simple band to the photographers. Message? She'll show it off when she feels like it.

Be that as it may, Williams isn't just flashing a happy smile and a mega-size engagement ring in her Reddit post. She's also managed to combine her sporty and feminine side via her clothes by wearing a white tank top, a black skirt that appears to have tulle and, — oh, yeah — a pair of Nike running shoes. Lest we forget which one of her major sponsors helped her become the highest-paid female athlete last year.

Here's hoping for more Reddit posts from Serena Williams!