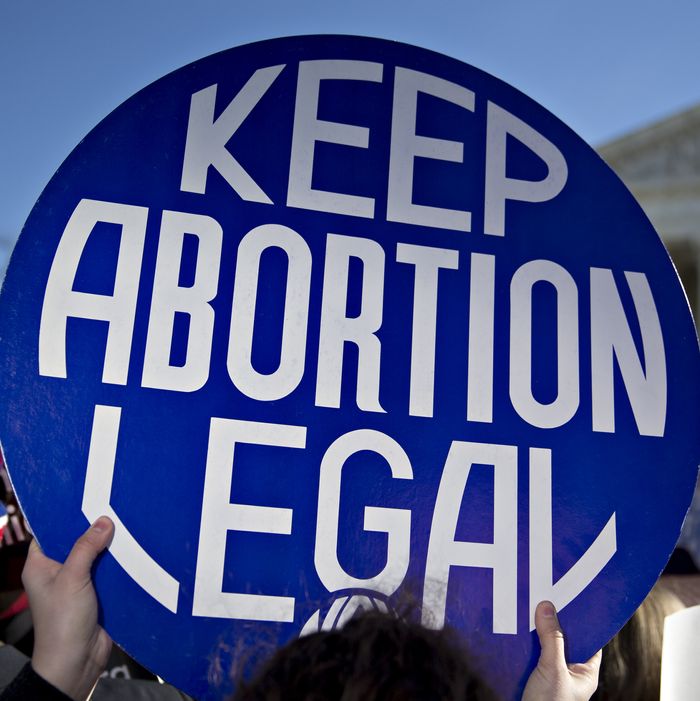 Photo: Andrew Harrer/Bloomberg via Getty Images
Late-Term Abortion in Ohio

Jessica, who had an abortion after 24 weeks.
When she was 23 weeks pregnant, this woman from rural Ohio discovered that a fatal chromosomal condition would not allow her fetus to survive past a few weeks of birth, if at all.
I got pregnant three years ago. I was 22, it was a brand-new relationship, but I was adamant that I was having a baby. I've always taken motherhood very seriously. I was abused — the product of people who shouldn't have had kids — then adopted. I felt so strongly that this was the most important job of my life.
I wasn't at risk of genetic defects, so during the anatomy scan it didn't even occur to me that they were looking for abnormalities. Me, my boyfriend, and my parents all went to the appointment, and when they said I was having a girl, my mom jumped up and down hollering as if she were at a football game. My boyfriend cried.
I was home alone when I got a call from the genetic specialist who told me that the tests were positive for trisomy 13. I thought that was Down syndrome and thought, Okay, I can do that. But then she started apologizing: "I'm so sorry, these babies usually miscarry. It's a miracle she's made it this far." I said I didn't understand, and she explained that my baby could pass any day, be still-born, or die soon after. I Googled "trisomy 13" and saw horrific pictures of babies without noses or mouths. I sat there and sobbed while I held my belly apologizing to her over and over and over again. I called my mom and said, "My baby's going to die. My baby's going to die."
The doctor cleared her schedule and saw me later that day. She said: "You need to make a decision. You're already 23 weeks and the state of Ohio has restrictions that impact your options." She explained I could terminate or carry the pregnancy to its extent. At the time, 24 weeks was the cutoff for abortion in Ohio or else you had to travel to another state. [In December 2016, Republican governor John Kasich signed a law that reduced this cutoff to 20 weeks.] We only had days to decide, and even then there were waiting lists and the expense was horrendous. I had never felt so alone.
The counselor said my baby wasn't in pain and there was no risk to either of our lives if we continued the pregnancy. I thought, Let's try to make some memories while we can. I really enjoyed being pregnant. I loved having this purpose, and I thought as long as she's not suffering, I think that her being here with us right now is the best we can do. And so … we tried.
At 29 weeks, my ankles and legs got extremely swollen. I was disassociating and became lightheaded, so I left work. I started cramping and ended up in the hospital. There were so many tests, which ultimately concluded that this was an emergency situation. [Jessica was at risk of having a seizure, and potentially dying, if labor wasn't induced.] I wasn't thinking, I'm terminating this pregnancy in order to save my life, but that's what my paperwork said.
The doctor was very clear. He said, "You need to decide whether you want to induce now or come back in a week and get your blood pressure checked again — and I will induce you then." I lived 45 minutes away from any hospital, on a farm without neighbors. It was a bitterly cold January. He was afraid I'd have a seizure and not get to them in time. That worried me, too.
But I knew that if I was induced, there was no chance my daughter would survive. Even if I carried her to term, her survival rate was very low, less than 5 percent. Another decision I had to make was telling the doctors that I did not want them to resuscitate the baby.
I was in labor for 32 hours.
I declined to have her monitored during labor because I didn't want to sit there listening to her pass away. So they'd periodically come in and quietly listen for a heartbeat. The last time, at 1 a.m., they couldn't hear it. I made them bring my family back into the room, and about a half an hour later it was time. She was born after three pushes, and at just two and a half pounds. Her heart was still beating, but she didn't cry or breathe or make any sort of sound. There was mention of oxygen, but I said, "Please, just let her go." They put her on my chest, and my boyfriend came and cut the cord.
She stayed alive for two and a half hours. They called it when her heart stopped.
When I made the decision to "voluntarily" induce, I felt like I was picking myself over my child. I wouldn't wish that on the most evil person on Earth. A funeral director arrived with a huge white cloth. He said, "I have to cover her face so people don't know when I'm walking down the hall [with such a small body]." I handed her over, and that was the last time that I saw her. I didn't want a casket on display at the funeral; that tiny box would have been way too much. I collected her ashes a week later.
Many people don't understand why this experience reinforced my pro-choice beliefs. Now more than ever, I firmly believe: No conditions. No restrictions. I can't imagine being in that situation and being denied the dignity of making a choice. That little bit of control was so empowering. Nobody just wakes up after being pregnant for over 20 weeks and says, "I don't want to do this anymore."
When Trump said those things about late-term abortion during the debate, I was so angry. What must the rest of the world think of us? I have friends in the U.K. and Canada saying, "What the hell? You can have 30 guns but you can't have a dignified, comfortable abortion?"
And while we're getting abortions and making painful decisions about our bodies, Trump is fucking tweeting.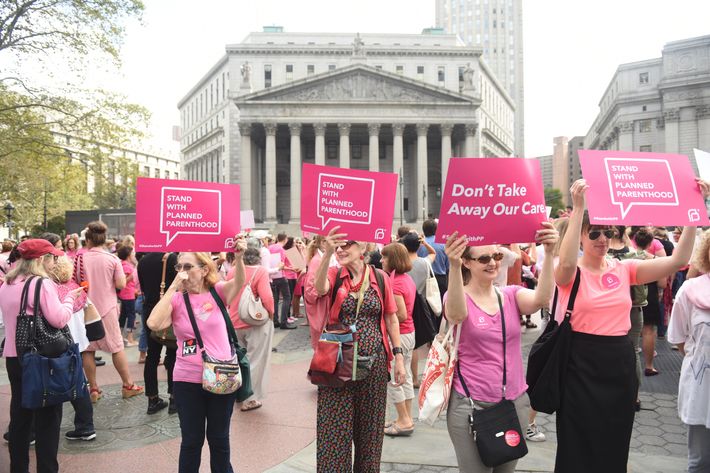 Abortion's Underground Railroad in Texas
Meg, president, Fund Texas Choice.
After her second abortion in 2013, Meg, a social worker from Texas, was moved to work for a nonprofit that helps women travel out of state for abortion services.
We are the only long-distance travel fund of our size in the U.S. When we started offering services in 2014, we funded two to three trips per month. Now we coordinate and pay for upwards of 30 per month and anticipate that number to increase this year. We pay outright for airfare, hotels, gas, and cabs, rather than rely on volunteers. (Once we found that someone who offered to drive folks planned to kidnap our clients and bring them to church.) We rely 100 percent on private donations.
I had my first abortion in San Antonio when I was still in college. I told my mother — she was very pro-choice — and she took me to her gynecologist. It was stressful, but it was easy. It was done by someone we'd known pretty much my whole life. He was very respectful. And it was all covered by her insurance. There wasn't any regulation that impacted me at that time.
Twenty years later, I was married, in my late 30s with a kid. I found out I was pregnant again. I had just moved back to Texas, and it was a very stressful time. I was working. My husband and I were having problems. My mom had just died. And, this time in 2013, HB2 had just passed so nearly all the clinics were closed. I couldn't even get someone on the phone. I left messages. It took a few days to get someone to pick up.
Eventually I ended up in a waiting room with probably 50 other people and their escorts. It was clear how much stress the system was under. The staff was waiting for their practice to be closed down at any moment. They only performed the procedure on Tuesdays and Thursdays. When I signed in, I had to turn through four pages of names from just that morning to get to the space to sign mine. I waited there, standing room only, for five hours, just to get my ultrasound and blood work done. Then I had to come back 48 hours later and do the whole thing over again.
The doctor encouraged me to take the abortion pill so that I wouldn't have to deal with all the waiting. He said, "Why subject yourself to this?" I'd wanted a surgical abortion. I also didn't want to subject myself to the judgment of my friends and husband about a second abortion, so I was there on my own.
I felt personally impacted by Draconian laws that were clearly aimed to keep women away from that door. So when I found out about Fund Texas Choice, I offered to help with fundraising and then joined the board.
I'd say of the 30 women and people we serve each month, we send half out of state because of waiting lists — because it's faster, because it's closer, because it's cheaper, because those clinics are very respectful. There is a real need to get out of state because so many regulations are preventing women from getting care even if there are open clinics in the state. Most of those who need our help are young. And since minors have to get a judicial bypass in Texas (which continues to get harder and harder to secure), we often have to get those girls out.
What are we going to do if we have to get everyone on a plane?
The Lone Clinic in South Dakota
Carol Ball, fellow of the American College of Obstetricians and Gynecologists and the medical director at Planned Parenthood Minnesota, North Dakota, South Dakota.
Ball, who has traveled to provide abortion services for decades, currently heads the only clinic in South Dakota.
This state has a 72-hour wait law, and they make patients hear detailed information about embryonic and fetal development. Most women come to our clinic having thought very carefully about their decision. The state of South Dakota has progressively made more and more regulations over the years. And there are absolutely no physicians in the state who will provide abortions. All our providers live out of state.
We are in Sioux Falls, which is the most southeastern part of South Dakota. So women who come here from the western part of the state travel four to five or even six hours. The next closest places to go are in St. Paul or Denver. I think that most physicians here feel that their practice might be adversely affected if they did procedures. There are supportive members in the medical community, but providing the service would damage their livelihoods.
I started medical school within a couple of years of Roe v. Wade. I remember there was an OB/GYN surgeon who did abortions in the operating room at Methodist Hospital. Everyone else would leave — but I stayed. One day he turned to me and said, "I think I do more good by doing this one procedure than any other thing that I do."
I've been traveling to Duluth for 35 years. And then also started traveling to Appleton, Wisconsin; Fargo, North Dakota; and the Twin Cities once I moved down here. The most difficult thing is the time, the effort, and the energy that it takes to travel twice a week. What can I say? More restrictions are being placed on us, but those of us who provide abortion services are very committed to giving women this care. I own a bulletproof vest. I don't think that that's something most physicians are given over the course of their careers.
Opening the First Abortion Clinic in Oklahoma in 40 Years
Julie Burkhart, founder and CEO of Trust Women Foundation.
A former colleague of Dr. George Tiller, who was assassinated in 2009, Julie organized the opening of the first new clinic in Oklahoma since the '70s in 2016.

I was involved in opening a clinic in Wichita back in 2013, so I had been through this before. I mean, in Wichita the protesters stand out there with big notepads tracking everyone who comes in. They write down license-plate numbers. There aren't many other jobs where you go to work and 10 days out of that particular year you have men in your building with automatic weapons.
So that clinic was the one that Dr. Tiller worked at. He was shot at his church in 2009. I used to work closely with him. After he was killed, protesters stood outside my house for days with signs reading, "Where is your church?" Once someone posted online: "I want to beat and kill you." That was tough. I have a teenage daughter.
I'm sure I have residual trauma from his death. But we did it again. And in Oklahoma it was easier to find an architect who would take the project on, but we really had to vet all the contractors. And then they were harassed by protesters, who mostly seemed to be men in their 20s. They had the generic signs, you know, "Baby Killer" …

It took over a year to get an application approved to begin construction. I didn't know if the state was ever going to approve it. I thought we might have to go court. Then I was very concerned that I wasn't going to get a bank loan. I finally found a regional bank, but it took a long time.
In September 2016, we completed construction on a 4,500-square-foot stand-alone building. There's a wooden fence and I love it because it keeps people off the property and it's a visual reminder that this is private.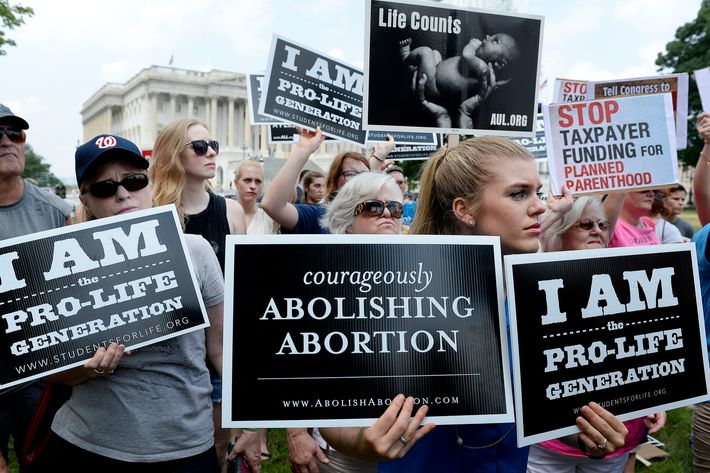 The Voice on the Other End of the Line in New Jersey
Roxanne, patient advocate at Cherry Hill Women's Center.
This center has been part of this New Jersey community since 1978. Today, it's a common destination for women who travel from out of state, often from the South, for abortion services.
In an eight-hour day, I usually speak with 40 people. If I need to, I take a minute to collect myself after a call. Sometimes people's circumstances are just too painful. But in general I feel like I am helping someone who's been hitting a bunch of walls. We can see patients until 24 weeks and six days, which is through the second trimester of pregnancy.
I recently spoke with a woman who knew her partner was going to be deported. Their pregnancy was unplanned. If circumstances were different, she would have been really happy, but knowing things were so unstable, they decided to terminate. Before she got through to us, she called one of those counseling lines that is really a pro-life organization. They'd given her a lot of misleading information about access and the procedure, saying she wouldn't be able to have kids again.
Patients who come from other states often worry that because it's not legal to access an abortion at a certain gestation where they live, they will somehow be reported and penalized when they go home. They feel like criminals for getting respectful health care.
The really big protests usually happen on Saturdays: That's when these people have time to come stand there all day. It's also when we have to schedule the most patients, because many can't take days off work or get child care. The overall feeling in the clinic changes. There's no other medical procedure that comes with this sort of challenge — it's tough. But we have this wonderful team of volunteers who stand outside in the rain and cold and sun to escort women past the protesters.
Our group includes retirees, medical students, college groups, neighbors, former patients … and even my dad. He's not working right now, and I encouraged him to do it. I don't know if he thought about abortion too much until he started working at the center.
I always say: "The most important thing you guys are doing is helping break down that stigma." They are friendly faces in a sea of negativity and harassment. That's why the protesters are there: They want women to feel like they are doing something wrong. Instead, when someone has a smiling face and is waving them in, the whole process is normalized.
Providing Abortions in the Deep South
Anonymous, OB/GYN and a former fellow with Physicians for Reproductive Health.
On what it's like to have been providing abortion services in the South since 2002.
When I was doing my residency in New York, a patient came in 18 weeks pregnant and very, very sick. The only way to save her was to terminate the pregnancy. We were in a Catholic hospital … I vividly recall my director of obstetrics and the chairman arguing with the nuns. They said, "Well, the baby's only 18 weeks, it's going to die." They felt very strongly that we could not do anything, but they would be okay with us transferring her to get care elsewhere. The director rode with the patient in the ambulance because he was afraid that she would have seizures. She was in her early 20s, and she already had a kid. That really got to me. How could we let this mom die and leave her child behind when we have the means to take care of her? I said to myself: "I never want my hands tied behind my back like that again."
I used to travel; these days I'm mostly in Georgia and I'm a backup physician in Alabama. In Alabama, my patients tend to be poor and young. The youngest was barely 12. She went to play with a classmate, and there were older boys over … When her guardians brought her in, I was reluctant to take care of her in an outpatient setting because we couldn't sedate her. I went to the local hospital and said, "She's just a baby. She's suffered enough. Please, can we put her to sleep." Everybody was onboard. Things have changed so much I don't know if I would be able to get away with that now.
The most frustrating thing for me, especially in the Southeast, is seeing so many women who are not empowered to take care of themselves. Especially women of color. You hear things like "I was told I'm too young for an IUD" when we know that's not true. They need to know what their options are. I'm Haitian-American, and the part of me that is extremely cynical wants to say, Well, it's because these are black women. But I really think it's a matter of poverty. It just so happens that the face of poverty may be black.
A few weeks ago, a woman came in for a medical abortion. As she was about to take the pill, she asked, "Do you think God hates me?" And I said, "No, he doesn't hate you." She said to me: "I tried so hard not to get pregnant. I told my boyfriend to use a condom, but he refused and forced himself on me." If you overturn Roe v. Wade, what's going to happen is we'll go back to the way it was before. Every state for themselves. And best believe that the conservative states are going to try to outdo each other. Poor women will suffer. Poor women will die.
There's a generation of abortion providers who are more willing to be vocal about the impact of these different legislative measures. I tell my learners, "I don't expect you to provide abortion care, but I want you to support your co-worker if they say, 'Hey, we need a piece of legislation.' I want you to stand behind us. But most importantly, I want you to be able to counsel and educate your patient in a way that respects her decision." If I can train 500 providers who are compassionate and willing to respect and help their patients, I've done my job.
A Man Who Helps Women Feel Comfortable in a Very Hostile Environment
Anonymous, a male West Coast abortion provider.
This Seattle-based doctor travels to provide abortions to women in a southern state where there is no local staff willing to do the job.
After volunteering at a clinic for homeless people, I decided to get into medicine because it would be a way I could give back. I'm juggling two jobs at the moment, and once a month I travel from Seattle to a clinic in a southern state.
When I'm working in a clinic there, the restrictions are infuriating. It demonstrates how polarized America is. We have a security guard; bulletproof-glass windows; a fence and cameras everywhere. I feel a heightened sense of my own lack of safety. I find myself looking around corners. When I'm driving I ask myself: Is someone following me? I think it's partly because I'm an abortion provider but also a symptom of being a person of color in America.
So I feel like I'm just waiting for somebody to shoot me. I can't imagine any other type of doctor feeling like a walking target for somebody to perform a hate crime on. Half of America doesn't think we're helping people.
Very often my friends and family ask: "Are you sure you want to do this? You have a job in Seattle: You don't need to go to the South." I know it's not something I need to do, but it's something that's needed and I have the skill set.
The medications that we give in the South are only for conscious sedation, so they're awake and we can communicate with them while they're having their procedure. That's one of the differences also between the southern clinic I work at and Seattle. It's just costs more money for a nurse anesthetist. So I talk them through it. I let them know that they're safe and hand them a tissue if they're grieving. We share the experience together. Whereas in Seattle, if they opt to have anesthetic, they might be much more comfortable.
I think the thing I'm most conscious about is my beard. I make an effort to trim it before I go to work because I know facial hair can intimidate some women.
I recently saw a patient who made me think This is why I do it. She was about 19 weeks pregnant. She had been raped and didn't want to report it because she was afraid of the repercussions. She also had an issue with heroin, she wasn't ready to be a mom. A lot of trauma was triggered by her sexual assault. I was the only one on duty that day, so we let her know that the provider would be a man. We talked through it, she wasn't ready to be a mom. She was so nervous, but afterward she was crying tears of gratitude. She thanked me for helping her out of the spot she was in.