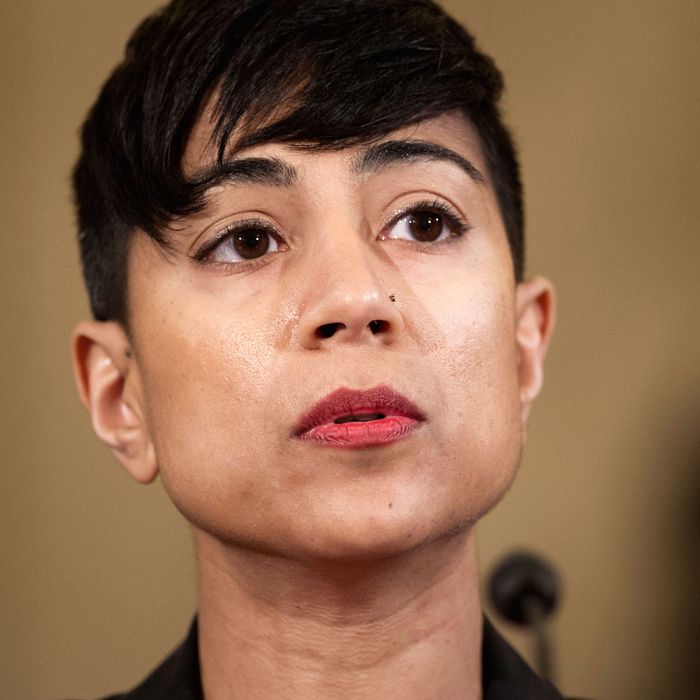 Mirror Memoirs founder Amita Swadhin testifies at confirmation hearing for Jeff Sessions.
Photo: Cliff Owen/AP
Sexual-assault survivor and activist Amita Swadhin testified before the Senate Judiciary Committee Wednesday to urge its members not to confirm Jeff Sessions as attorney general. Swadhin, who was raised in New Jersey by immigrant parents, opened with her own powerful story. "My father raped me at least once a week from age 4 to age 12," she told the committee. "I endured psychological, physical, and verbal abuse from him for years."
In light of her own experience, Swadhin said Sessions's remark that he doesn't characterize Donald Trump's comments in the Access Hollywood tape as sexual assault is "incredibly worrisome." "We need an attorney general who is committed to improving and enforcing our laws to ensure the most vulnerable victims of crime can come forward to seek accountability and to access healing," she said. "Time and again, Senator Sessions' voting record has shown us he is not the man for the job."
She went on to discuss Sessions' voting record on the Violence Against Women Act, which he initially supported. But when the act was expanded in 2013 to include protections for LGBTQ people and immigrant and tribal populations, Sessions voted against it. (Earlier in his hearing, Sessions said he voted against VAWA in 2013 because he was concerned about a provision that allowed tribal courts to try non-tribe members.) Swadhim implied Sessions should have been most concerned with those the expanded act would have protected: "We must trust the attorney general to respect the humanity of all Americans and especially to be committed to seeking justice for our most vulnerable victims of crime," she said.

Swadhim concluded by asking the committee not to confirm Sessions. "Given his voting record on VAWA and on LGBT rights, we have no reason to put our faith or our trust in Senator Sessions as attorney general," she said. Watch her complete testimony below.