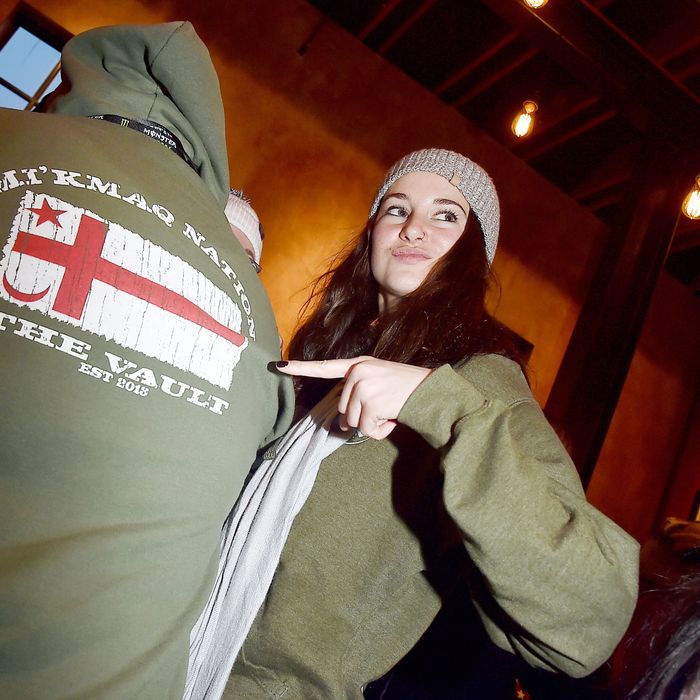 Shailene Woodley.
Photo: Alberto E. Rodriguez/Getty Images
The fate of our natural world may feel bleak right now, but take comfort: Our favorite artisanal Bernie Bro Shailene Woodley is still out fighting the good fight.

After appearing at an anti-Trump demonstration on Thursday in New York City, the actress and activist spent Monday marching through the Sundance Film Festival in opposition to the Dakota Access Pipeline. Joining a group of protesters outside the festival's Chase Sapphire Lounge in Park City, Utah, Woodley implored Robert Redford's Sundance Institute to sever ties with festival sponsor Chase Bank in light of their funding for the controversial pipeline.
"There is a hypocrisy in talking about indigenous cultures but not doing anything, as a non-native ally, to stand with them," Woodley said in a Facebook Live video.
Woodley has been an outspoken opponent of the Dakota Access Pipline and its incursion onto Sioux tribal land, and was arrested for "criminal trespassing" during a protest in North Dakota in October. While protesters won a temporary halt on construction of the pipeline in December, it was announced that Trump plans to sign executive orders today that will advance construction on both the DAPL and Keystone XL.