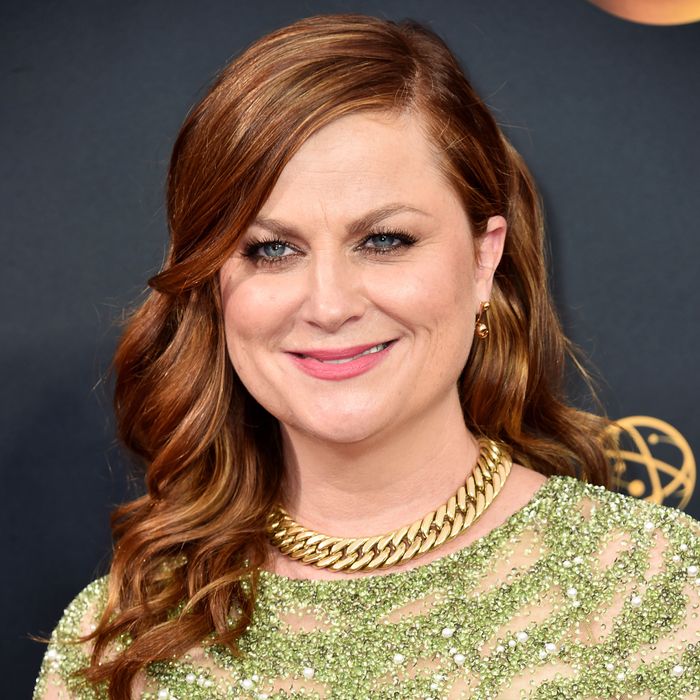 Amy Poehler.
Photo: Alberto E. Rodriguez/Getty Images
Us Weekly published a bombshell exclusive last night about Amy Poehler's personal life: She is allegedly dating a New York–based patent lawyer who is also an Ultimate Frisbee Guy. His name is Benjamin Graf. Us Weekly confirmed these details by cross-checking Graf's bio on his firm's website. That bio has since been deleted, so you'll have to trust Us Weekly that it said this:
"When he is not trying to be an inventor himself, Ben enjoys Ultimate Frisbee, tennis, cooking and exploring new cities and countries."
That's not all. According to Us Weekly's mysterious sources, Graf also enjoys or at least tolerates hiking. Poehler and Graf were "spotted" on a hike in Los Angeles last May.
I know what you're thinking: May was a long time ago. Why are we just hearing about Amy Poehler dating a patent lawyer now? Well, you know how these things go. It probably took Us Weekly's investigative reporters some time to check out the Ultimate Frisbee thing (interviewing teammates and league organizers, staking out Prospect Park Saturday after Saturday, and then it got to be winter, etc.). No doubt there was a lead on Graf's Netflix preferences that went cold. Does this guy like music? And if so, what kind? It's not so easy to figure out.
Thank Us Weekly for the vital information about Amy Poehler's (sort of) new boyfriend that it was able to provide: lawyer, frisbee, hiking maybe. If the tabloid adds to its reporting in the coming days, we will update this post.