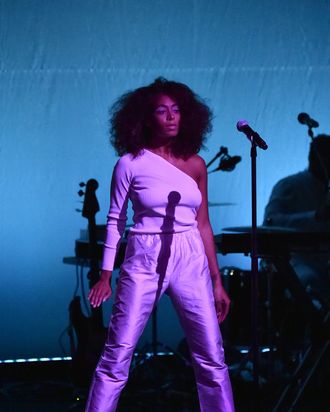 Solange Knowles.
Photo: Mike Coppola/Getty Images for Busboys and Poe
Not all festivities going on during inauguration week are celebrating the incoming president. On Thursday evening, across the lawn from where the inaugural concert was held, there was a separate event dedicated to another matter: recognizing the social progress that's been made in recent years. Artists and progressives alike joined for a moment of reflection and celebration at the Busboys and Poets' Peace Ball, held at the National Museum of African American History and Culture in Washington, D.C.
Officially titled, "Voices of Hope and Resistance," the event was the third of its kind since 2009, and meant to serve as a space for rallying together and celebrating progressive victories, according to NPR.
"The Peace Ball is a gathering of artists and activists and progressives to sort of take a moment and pause and assess all the successes we've had for the past few years — successes around the environment, around marriage equality, around women's rights," Andy Shallal, the Peace Ball's organizer, told NPR earlier this week. "Sometimes in very difficult times, we forget to stop and celebrate and take that pause."
The night featured performers like Solange and Esperanza Spalding as well as a who's who list of progressive activists, politicians, journalists, and entertainers. Among the attendees were activist and scholar Angela Davis; author Alice Walker; New Jersey Senator Cory Booker; journalists and commentators Melissa Harris-Perry, Amy Goodman, and Van Jones; actors Ashley Judd and Danny Glover; and poet Cleo Wade.

Take a look at some of the best Instagram photos shared throughout the night: